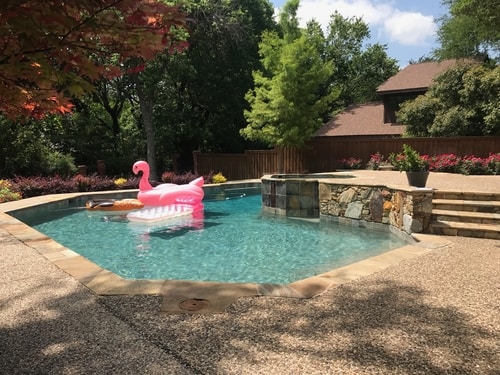 Best Pool Company in Plano
When your pool is clean and in working order, it's an amazing place to hang out. At Liquidus Pool Services, we're here to ensure it remains that way for a long time. We want you to make the most of each weekend in Plano, and we know that's impossible if you're constantly worrying about your pool.
If you contact Liquidus Pool Services, you can expect a quick response from a team that is clearly passionate about pools and recreation. We'll send out a certified technician to clean or repair your pool so you can make the most out of your life in Plano.
Pool Maintenance and Repair in Plano
Swimming pools can be relaxing havens, but only if they're clean and in working order. Sometimes, however, it can be difficult to keep them in pristine condition. If you're sick of dealing with dirty filters and unbalanced chemicals, we're here to remove the burden. We recommend weekly cleaning services, which will keep your pool looking picture-perfect and could prevent the need for repairs down the road. If you take this approach, you can expect the following every week from our certified technicians:
Vacuuming
Skimming
Emptying skimmer baskets
Brushing
Chemical balancing
Chemical tests
Pressure checks
Equipment checks
Perhaps you've waited too long to deal with seemingly minor problems, and you now have algae bloom on your hands. Don't worry — we'll take care of it. We can work with you to develop a comprehensive solution that returns your pool to the pristine oasis you've always desired.
In addition to maintenance and cleaning services, we provide repairs for Plano homeowners. Our highly trained technicians can quickly diagnose and address issues with your heater, pump, lights, filters, or GFCI.
Liquidus Pool Services' Commitment to Great Customer Service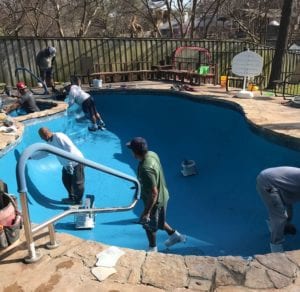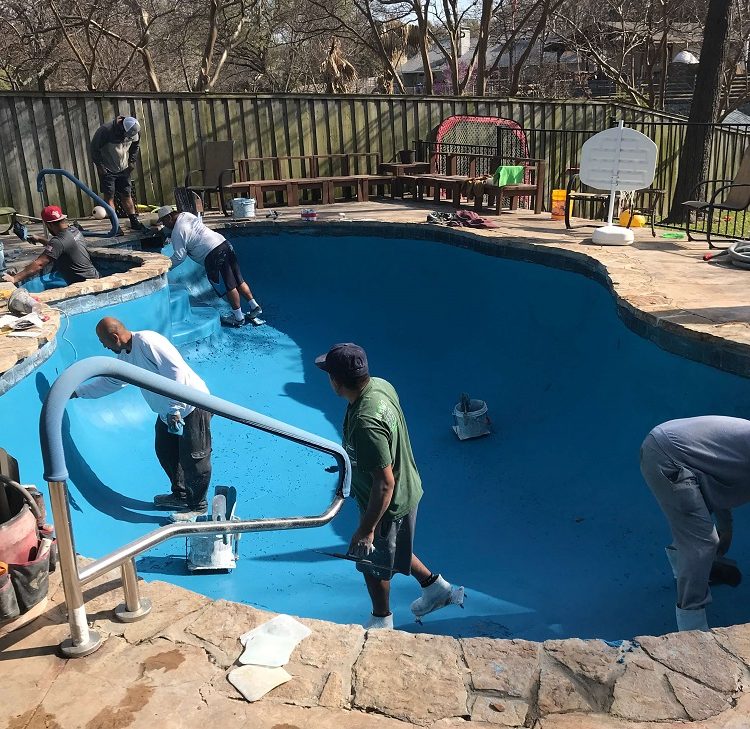 Excellent customer service is a central tenet of Liquidus Pool Services. Our trustworthy team understands that your pool is your place to escape to. When it breaks down, we're determined to get it back in working order as quickly as possible. You'll be treated with respect through every step of this process. Along the way, we'll keep you updated with detailed emails outlining the current condition of your pool.
Our commitment to exceptional customer service has not gone unnoticed. We regularly receive five-star reviews from our satisfied customers. In one especially glowing review, an admitted "pool rookie" advises, "If you were thinking about cleaning your pool yourself, please take my advice and just use these guys." This is the type of feedback we enjoy receiving; we work hard to ensure that every customer feels that working with us is the right decision.
Having opened in 2017, Liquidus Pool Services is pretty new on the scene in Plano. Despite this, we've already made our mark throughout the Dallas-Fort Worth Metroplex. We're honored to have received two awards from Home Advisor: the Top Rated and the Elite Services Awards.
You should never doubt that your pool technician cares about you and your loved ones. At Liquidus Pool Services, we understand the important role your pool plays in your life. We want it to be your personal getaway, and we'll do whatever it takes to make that happen.
Living in Plano
One of America's safest and most family-friendly cities, Plano is a wonderful place to live and work. It's a far larger city than outsiders suspect, with an estimated population of 269,776 as of the 2010 United States Census. The city continues to grow while somehow still maintaining a friendly, personal feel. It's the best of both worlds, particularly for those who are intent on building close community connections.
Although Plano offers a reasonably easy commute to both Dallas and Fort Worth, there is rarely a reason to leave as far as recreation and entertainment are concerned. Outdoorsy types spend much of their time at the expansive Arbor Hills Nature Preserve, which boasts over 200 acres of recreational opportunities. The gorgeous preserve is home to several miles of hiking and biking trails, plus a pavilion and a playground. The Oak Point Park and Nature Preserve is even larger; its 800 acres provide plenty of opportunities for observing local wildlife.
Few local activities please history buffs more than visiting the Heritage Farmstead Museum, which accurately captures what it was like to live on the Blackland Prairie during the late 1800s. Plano is also home to the Interurban Railway Museum, which provides guided tours and is home to a variety of interactive exhibits.
There is always fun to be had in and around Plano, but sometimes a dip in your own pool is more satisfying than any community event or amenity. At Liquidus Pool Services, we understand that your pool is your personal oasis in the heart of Plano — and we aim to keep it that way. Reach out today to learn more.
---
Local Reviews
for Plano, TX
Rated
5.0
out of 5 stars based on
1
customer reviews
Powered by Link Right Local
---
Always great service, very pleasant
Donna

-

Plano

,

TX



---
Response from Liquidus Pool Services, LLC:

Thank you very much Donna! We always enjoy seeing you and the family.
---
Adam W.
Near
Walling Ln,

Plano

,

TX

75093
Garrett H.
D.E Filter clean and weekly service
Near
K Ave,

Plano

,

TX

75074
Garrett H.
Near
Lost Creek Dr,

Plano

,

TX

75074
Garrett H.
Weekly pool cleaning service and maintenance
Near
Coleshire Dr,

Plano

,

TX

75075
Adam W.
Near
Remington Dr,

Plano

,

TX

75023
Garrett H.
Weekly pool cleaning service and maintenance
Near
Lost Creek Dr,

Plano

,

TX

75074
Adam W.
Near
Briarcrest Dr,

Plano

,

TX

75023
Garrett H.
Weekly pool cleaning service and maintenance
Near
Highedge Dr,

Plano

,

TX

75075