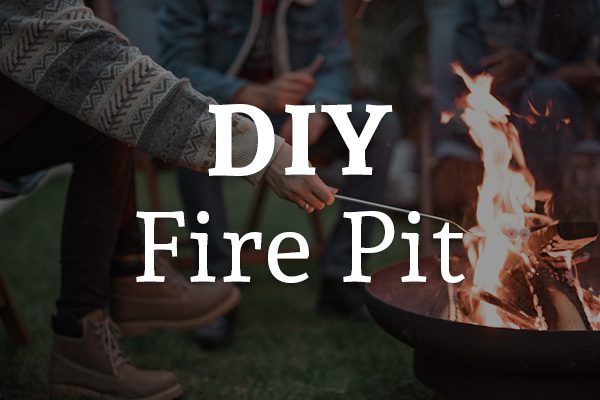 Fire pits create the perfect atmosphere for a night of relaxation, contemplation, or enjoying time with family and friends. They help fend off the chill and create beautiful light. Fire pits can be added to any backyard setting if you have the right materials and knowledge to bring it to life. Follow these steps to make your very own DIY fire pit.
1. Gather the Materials
Before you gather the materials, a fire marshal must check your area and issue a permit to build. Fire pits need non-flammable materials, and these are guaranteed to create a safe enclosure:
Wall block or stone; the number of these materials changes depending on the size of your fire pit
Steel pit ring with tabs
Metal grate
Sand
Gravel
2. Dig a Hole

Before you dig the hole for your fire pit, determine its measurements, including 2 feet for the grill. Most fire pits are usually 7 feet across. To keep the hole nice and round, follow these pro tips: Hammer a stake to mark the center of the fire pit. Next, tie a string (usually about 3.5 feet long) on the stake and mark the circle by indenting the ground with your shovel. Next, dig out the circle (about a foot of soil should work nicely).
Liquidus Pro-Tip; Firepit Forms
If you want an even more accurate way to ensure that the hole for your firepit is measured correctly, you may want to construct a form. You will need to purchase two cardboard concrete tube forms at a concrete supply company or your nearest hardware store. Make sure your form is the correct measurements and then place it where you want your firepit to be. Next, take a can of spray paint and spray around the form, that way, you are ready to dig the hole in the middle. Your hole should be about 8 inches deep and three feet larger in diameter for the form. This is to give you extra room to make space for the grill and the brick walling that will be installed.
3. Fill the Hole
Next, fill the hole with fire retardant material. Use about 4 inches of gravel and 4 inches of sand. Then, pat this mixture nice and flat. This will serve as a base and security blanket for your fire pit.
4. Build the Base
Every strong fire pit needs a reliable base. Lay down the first set of blocks/stone around your fire pit, ensuring it's level. If uneven, your fire pit will be unbalanced, harming the integrity of its walls. To reinforce the base from falling over, shovel gravel around the outside of the blocks.
Liquidus Pro-Tip; Concrete Base and Drainage
If you want to build a firepit like the pros at Liquidus Pool Services, we recommend pouring a footer of concrete as the base, rather than using sand or gravel. The weight of your new firepit will cause the soil underneath to shift. In order to prevent a complete collapse, you will want a sturdy and solid foundation. Before you pour the concrete in though, make sure you add a 4" PVC pipe in the center. This will allow water, from rain, to easily drain out of your firepit, allowing it to stay dry. As you are pouring your concrete, be sure to avoid pouring concrete over the hole of the drain. This can be done by keeping some of the PVC pipe out of the ground and then cutting it down after the concrete has dried.
5. Build the Wall
Add mortar to keep the fire pit wall intact. Then, add the next layers of stone/blocks, working toward a minimum of six layers. After the third layer of stone/blocks, poor the rest of the gravel inside the fire pit and even it out, thus avoiding lifting a heavy bag of gravel over the fully-built fire pit wall.
As you continue to build up your wall, clean the debris or dirt from each layer before adding the mortar and the next layer. This ensures that your fire pit has a nice clean look upon completion. It is also important to leave three to four small gaps between the stones in every layer. The gaps allow the fire to breathe, and you can control how big and how long it stays alight.
Liquidus Pro-Tip; Firepit Vents
Proper air circulation is essential for a successful firepit. Making sure there are at least three to four small gaps is important to allow your fire to breathe within the pit. Without it, your fire will quickly be snuffed out. Instead of just relying on gaps that could get filled or blocked with debris or a shift from the bricks as they settle, our experts recommend adding in vents. Vents fit into the gap, (that you would be naturally leaving), making the firepit more stable and giving a nice breezeway for your fire to breathe.
6. Install the Grate
Before you place the final layer of stone/blocks, install the grate to better contain your fire and keep air flowing. Push the ring into the ground and flush against the fire pit wall. Then add the final layer of stone/blocks.
7. Allow the Mortar to Dry
Upon completion of the last layer, you have technically finished your pit, but do not fire it up yet! Give the mortar at least 24 hours to completely dry and harden. Then, you can test out your new fire pit!
Liquidus Pro-Tip; Dress It Up!
Now that you have a functional firepit, you will want to make it beautiful to really wow your neighbors. We highly recommend installing some veneer or tile on the outside and capping the top of your bricks. This not only transforms the look of your firepit but it also helps keep the heat within the pit, allowing you and your guests to sit around it comfortably.
Fire pits are a gorgeous addition to any home. For turnkey solutions and professional installation, contact Liquidus Pool Services. Liquidus is proud to serve the people of Texas and create gorgeous outdoor spaces. Give us a call today for a free consultation.