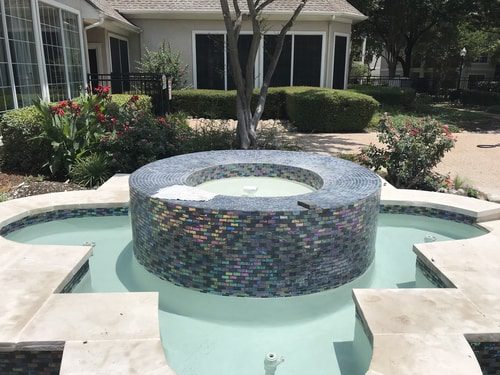 Dallas Area Pool Tile Services
Pool tiles can become damaged, discolored, or worn out over time. If you have an older swimming pool, your tiles might have an outdated look that affects your pool's appearance overall. At Liquidus Pool Services, we offer pool tile services for homeowners in the Dallas area, including pool tile repairs, replacements, and installations. Whether you need brand new pool tiles or repairs for damaged tiles, our team is here to help. You can depend on our pool contractors to provide exceptional tile installation, replacement, and repair services for your swimming pool.
Pool Tile Replacement
Pool tiles can sometimes become loose or start to come off for different reasons. When this happens, you might need to have these tiles replaced with new ones. In general, if your tiles are in poor condition from damage or wear and tear, having them replaced is a better option than having them repaired. When you need pool tile replacement in Dallas, you can count on the professionals at Liquidus Pool Services. Whether you need a couple of tiles replaced or several, our experts can handle the replacement process for you.
When you want to update your swimming pool tiles, this involves a total replacement. Our team at Liquidus Pool Services has all of the equipment and knowledge needed to take on a job of this size. We can help you pick out replacement tiles for your pool, whether you're interested in porcelain, ceramic, stone, or other materials. We'll make sure that you get high-quality pool tiles that are durable enough to last for several years. Our technicians will then handle the entire process of removing your old swimming pool tiles and replacing them with new ones.
Swimming Pool Tile Installation
The tiles you choose have a big impact on the appearance of your swimming pool. Whether you prefer the classic look of porcelain and ceramic tiles, the streamlined look of glass tiles or the more rustic look of natural stone, our team of professionals can install whatever tiles you choose. We'll go over all of your tile options with you while taking your budget and other factors into consideration. When you have selected the tiles you want, you can rely on Liquidus Pool Services to expertly install them at your Dallas home.
Our professionals have years of experience installing swimming pool tiles for homeowners in Dallas. When you come to us for tile installation, you can rest assured that your new tiles will be properly installed. Once you've picked out the tiles you want, our team of pool experts will get to work putting them in place and making sure that they're firmly attached to your pool surface. This helps ensure that your new pool tiles will stay in place while also lowering the risk of damage to them.
If you need pool tiles installed, replaced, or repaired, contact Liquidus Pool Services to schedule a consultation. Our pool experts can help you choose new or replacement tiles or provide you with an estimate for tile repairs at your Dallas home. To learn more or to schedule your free 30-minute consultation, call us today.