Backyard Outdoor Living Spaces
Outdoor living areas are a perfect addition to any home. You can enjoy the fresh air, beautiful scenery, and relaxing atmosphere of mother nature in the comfort of modern living with your very own outdoor living space. From designing your patio to adding outdoor kitchens and landscape lighting, you can trust Liquidus Pool Services to create the perfect outdoor living area for you. Contact us today to schedule a consultation and take the next step towards attaining your new outdoor paradise.
Outdoor Kitchens
Outdoor kitchens are the ideal space to enjoy delicious food and the wonderful company of family and friends. Liquidus has perfected the art of designing superior outdoor kitchens that offer a variety of options, such as built-in grills, outdoor refrigerators, and housing units for pots and pans. Whatever your vision, you can rest assured that the expert team of designers and installers at Liquidus can help bring it to life. Our outdoor kitchen designs are built with safety in mind, and they can seamlessly match your other outdoor features, such as a pool or pergola. We are able to create kitchens in just about any style. If you can dream it, we can build it.
Fireplaces and Firepits
Spend a cool fall evening with your family and friends in front of a beautiful outdoor fireplace or firepit from Liquidus Pool Services. These unique outdoor features add a bit of warmth during the cold months and are a great place to unwind and spend time with loved ones. Liquidus Pool Services can design and install the perfect fireplace or firepit to match the design and style of your landscape and home. The possibilities are endless with an outdoor fireplace or firepit from Liquidus Pool Services.
Patios and Decks
Patios and decks provide a perfect sitting area for your outdoor living space. Liquidus patios can be created with a variety of different materials, such as stone, wood, concrete, or tile. Whatever your design preferences are, we can build you a patio to match it.
If you would prefer a more elevated space in your backyard, Liquidus can also design and build decks. No matter which style you choose, you can guarantee that Liquidus will make it look great.
Outdoor Shaded Areas
Escape the harsh rays of the sun with Liquidus Pool Services pergolas, arbor, patio cover, pavilions, gazebos, or cabana installation services. These additions can help you escape the harsh rays of the sun, keeping you cooler and allowing you to enjoy the outdoors longer. Pergolas and other structures provide the perfect shade to keep you, your family, and your friends cool while enjoying each other's company.
Water Features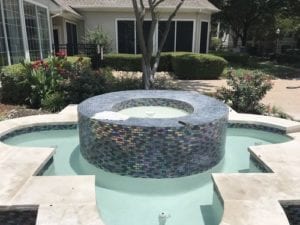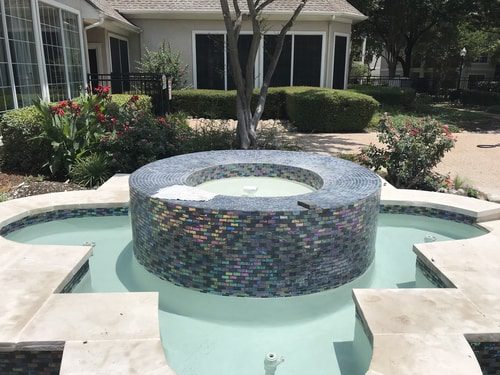 If you are looking for a unique way to make your yard look spectacular, consider adding a landscape water feature. Features such as fountains, manmade waterfalls, and ponds are all unique and gorgeous additions to your home. They work perfectly in any area of your backyard, such as on a patio or in a garden. Liquidus Pool Services specializes in designing and constructing the perfect water features to match your outdoor landscape needs. We'll help you create a style that is uniquely yours.
Outdoor Lighting
Your home's new outdoor living features would not be complete without the proper lighting. Landscape lighting helps you increase the security of your yard, highlight key features such as fountains, and enjoy your time outdoors late into the evening. Liquidus offers a wide variety of landscape lighting options, such as garden lighting, security lighting, outdoor living lighting, and architectural lighting.
Backyard Drainage Solutions
Water collecting in your backyard due to heavy rain or a leaking pool can cause a lot of damage and erosion in your backyard. Don't allow your backyard oasis to turn into a mucky swamp by investing in Liquidus Pool backyard drainage solution services. We offer a wide range of drainage options to suit whatever your backyard's needs and style are.
French Drain
Curtain Drain
Trench Drain
Sump Pumps
Dry Wells
Pool Deck Drains
Outdoor Living Areas – Dallas/Fort Worth Area
Liquidus Pool Services provides expert backyard remodeling services. We perform high-quality work that adheres to all building codes and HOA regulations. Whatever outdoor living options you're looking to add to your backyard, we can design and install them. Contact us today to learn more about our outdoor living services and to see how we can make your backyard an outdoor paradise.