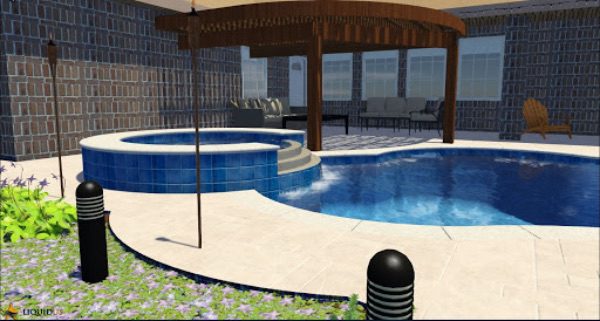 Backyard Arbors, Pergolas, and Cabanas
The Texas sun is gorgeous but it can be blinding and overpowering on a hot summer's day. Escape the heat with some cool shade provided by your very own backyard arbor, pergolas, or cabana installed professionally by Liquidus Pool Services. These beautiful pieces not only add a nice shady spot to relax, but they can also add a nice aesthetic flair to your backyard, pool, or garden. Contact Liquidus Pool Services to get started on building your dream hangout spot.
Arbor and Pergola Designs
Enjoy a day by the pool without worrying about being beat-down by the Texas sun by investing in a pergola installation. These stylish additions are often attached to a home and slatted, allowing in just enough light to enjoy the sun without being scorched by it. Implementing a pergola helps create the perfect lounge spot to read by the pool or to host guests at an outdoor dining area.
If you have a garden or an open backyard entrance, consider adding a decorative arbor! Arbors are beautiful archways that create a brief shady spot away from the sun. They can be decorated with vines or hanging plants and wrapped up in lights for the holidays. Whatever your style or preference, Liquidus Pool Services can make it happen. Our professional design team has an incredible eye for detail, meaning that we can match the unique look of your garden or backyard. With our skills and years of expertise, you can trust Liquidus Pool Services with all of your backyard design needs.
Trellis
A trellis is a frame of latticework that is used to house climbing plants. These beautiful, yet simple, additions to your backyard can help bring in a little greenery and color, as well as create a beautiful entryway into your backyard. Our outdoor environment experts can help you decide what type of trellis is best for you based on the different types of plants in your yard.
Patio Covers and Pavilions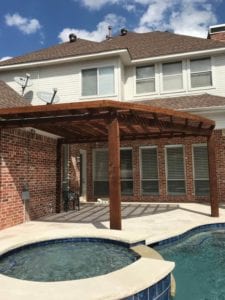 If you are looking for something solid to help block out the sunlight, a patio cover may be just what you need. Patio covers are perfect for poolside decks or patios, outdoor dining areas, and outdoor kitchens. They are beautiful additions that will give your swimmers or diners a needed break from the sun and create a comfortable place for good conversations.
If you are looking for something to cover part or all of your patio, invest in a pavilion. Pavilions are detached from the house, making it easier to customize the size and shape without taking away from the natural beauty of your home. Get in touch with Liquidus Pool Services to learn more about our pergolas and pavilion installation services!
Cabanas
A cabana is a perfect hangout spot after a nice dip in the pool. These shelters are small and intimate, allowing for close conversation, lounging, or a place to sit and reflect. Cabanas can be made with a variety of different materials and set up to match any needs you may have. Liquidus Pool Services' professional design team can help you match the design of your pool or help it stand out to add a unique flair to your backyard. Whatever your vision is, you can trust Liquidus Pool Services to turn it into a reality.
Tiki Huts
Bring the tropics to your backyard by investing in a beautiful tiki hut. Tiki huts are custom-built wood structures with a weather-resistant palm thatch roof. These huts are designed to allow in the beautiful sunlight and a nice breeze, giving your family a cool place to hang out. They are perfect for entertaining guests, providing a resting spot for your pool, and a safe place to store pool toys and equipment. You can also combine tiki huts with bars to create an area for great conversation and cheer.
Liquidus Pool Services is dedicated to providing your family with your very own dream backyard. Whether you are looking for water features, redesigned pools, or a freshly remodeled backyard, our team knows how to do it all. When it comes to pergola, arbor, and cabana design and installation, Liquidus Pool Services is a name you can trust. Contact our team for an estimate today!