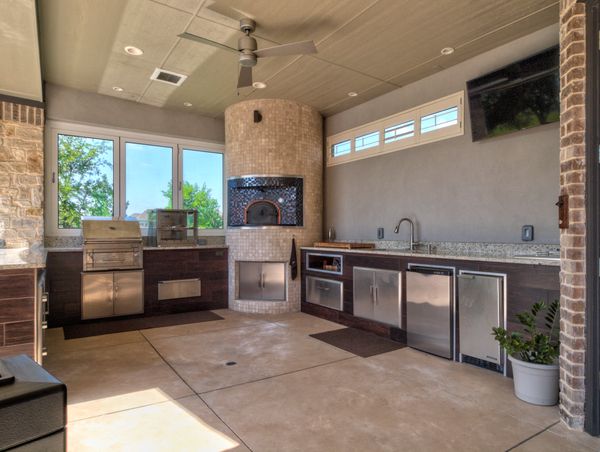 Outdoor Kitchen Cooking
An outdoor kitchen is an ideal place for entertaining guests, eating delicious food, and enjoying an unforgettable evening. With its hot summers and mild winters, Texas is the perfect place to have an outdoor kitchen installed. The backyard renovation experts at Liquidus Pools can help you claim all the wonderful benefits of an outdoor kitchen by installing one on your patio. Contact us today to learn more about our outdoor kitchen design and installation services.
Outdoor Kitchen Benefits
An outdoor kitchen is a fantastic addition to any home. With an outside kitchen, you can enjoy the beauty and fresh air of the great outdoors while enjoying delicious food with family and friends. Combined with an outdoor pool or fire pit, having an outdoor kitchen is the perfect way to help you throw an amazing summer party.
Outdoor kitchens prevent unwanted heat from filling up your home in the summer. You can enjoy a nice hot meal outside and then escape to the cool A/C inside your home at any time. With this added living space, your home's overall value will also increase, making it easier to sell when it comes time to move.
Outside Kitchen Designs
Liquidus Pools offers several outdoor kitchen design options. First, you can customize your outdoor kitchen by adding in appliances that cater to your family's preferences. Have a child who loves pizza? A pizza oven can easily fit into an outdoor kitchen design, allowing you and your loved ones to create your own personalized pizzas together. An outdoor bar is perfect for families who love hosting outdoor parties and social events, and it can be a great place to relax and watch a game if you add an outdoor TV. And an outdoor grilling station can help you cook hotdogs and burgers for your pool-goers or party guests.
When it comes to the layout of your outdoor kitchen, Liquidus's design team keeps functionality and aesthetics in mind. We can help you create a perfect layout that meets all your wants and needs. From sleek and modern to traditional and rustic, Liquidus can create a kitchen that matches your style preferences. Whatever your dreams are for your outdoor kitchen, you can trust Liquidus Pool Services to make them a reality.
Installation Services for Outdoor Kitchens in Dallas, TX
Liquidus Pool Services offers expert outdoor kitchen installation services. We work with homeowners to ensure that we are building an outdoor kitchen of their dreams. You can be sure that you'll love your new outdoor kitchen when you have it designed and installed by our team. Contact Liquidus Pool Services today for all of your pool and backyard remodeling needs.