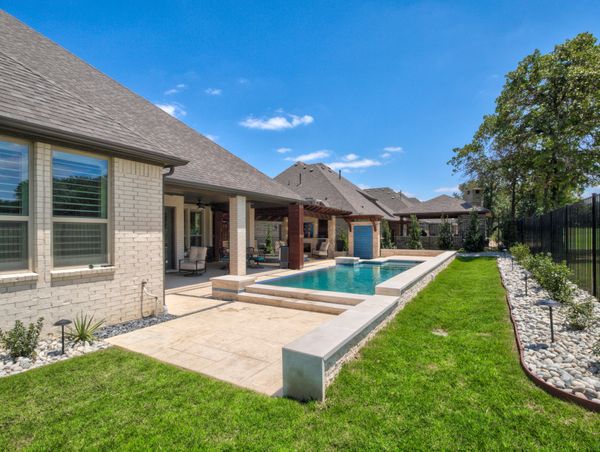 Landscape Stonework
Stonework can give your home an elegant look that impresses guests and increases your home's value. Whether you're looking for decorative stonework, stone pathways, or a retaining wall, Liquidus Pool Services offers unbeatable designs, stone options, and expert installation. Contact us today to get started on transforming your backyard with beautiful stonework.
Decorative Stonework
Decorative stonework can transform a plain landscape into a gorgeous masterpiece, adding value and beautiful aesthetics to your home. The breathtaking beauty of decorative stonework can be combined with a number of outdoor features, such as pools, gardens, and water features. With many different types of stone textures, colors, and sizes to choose from, Liquidus can help you create a unique look to fit your personal style. Whether you want to create an elegant look or a more rustic appearance with your stonework, Liquidus has the knowledge and the eye for design to make it happen.
Stone Retaining Walls
If your backyard has uneven slopes, it can be difficult to come up with an affordable solution to fix them. Uneven slopes increase the risk of someone twisting an ankle or falling. They also allow your soil to erode any time it rains, thus disrupting your yard's delicate ecosystem. And furthermore, slopes can simply be unsightly. At Liquidus Pool Services, you can count on us to build your stone retaining walls that are both beautiful and functional.
Walkway and Stepping Stones
Stone walkways are perfect for getting from one area of your yard to another. They are much more visually pleasing than cement walkways and can blend seamlessly with your patio or pool deck. Stepping stones are perfect for a garden or a yard, and they are extremely popular with children as they try to hop from one stone to another. The possibilities are endless with unique walkway and stepping stone designs from Liquidus Pool Services.
Types of Landscape Stones
The designers at Liquidus are experts at working with stone to create a beautiful outdoor feature for your backyard. We offer a wide variety of stone options for your yard, including:
Sandstone
Flagstone
Limestone
Chalkstone
Pebbles and Cobblestone
Decomposed Granite
These gorgeous stone options can come in a variety of colors, allowing you to customize the look and style of your walkway, stone retaining walls, and other stonework. We can make a rock garden using pebbles, cobblestones, and limestone, or create a gorgeous pathway from your patio to an outdoor cabana. Our design team can help you choose the perfect combination of stones to create the design of your dreams.
Backyard Stone Work in the DFW Area
No matter which type of stone you use or how you plan to incorporate it into your backyard remodel, you can trust Liquidus Pool Services to help you create a masterpiece. Our expert designers know the perfect way to enhance the aesthetics of your backyard by using stones that blend in beautifully with your outdoor features. Contact us today for a consultation, and we'll help you transform your backyard into a masterpiece.