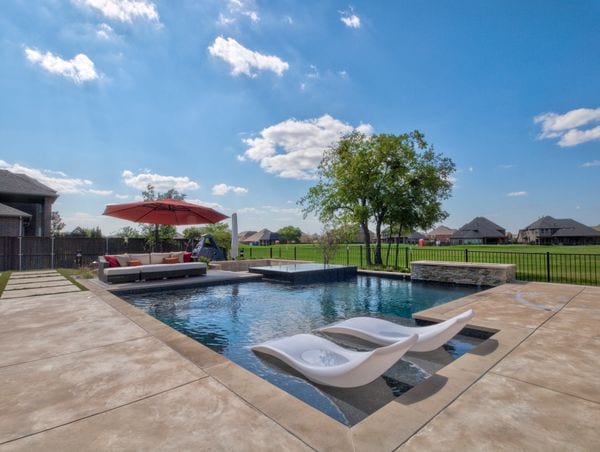 Modern Swimming Pool Construction in DFW Metroplex
You want your brand-new pool to be beautiful, functional, and captivating. Modern pools are known for their ability to take different shapes and tiles to create a unique design that will have your neighbors saying, "Wow." At Liquidus Pool Services, we know exactly what elements need to be included in a stunning new pool design. Your dream pool is only a phone call away. Contact Liquidus Pool Services today!
Characteristics of a Modern Pool
Modern pools are built with elegance and relaxation in mind. They're designed to create unity and flow within your backyard. This helps promote a sense of relaxation and ease, which allows the cares of the day to float away. Here is what you can expect from your modern pool design:
Geometric Pool Shapes
Modern pools make use of geometric shapes to fit any type of backyard. Whether your yard is big or small, the pronounced angles, gorgeous curves, or even irregular shapes will allow it to create an intimate but open feeling to give you the best of both comfort and adventure. Modern pools have either a streamlined or asymmetrical look.
Streamlined pools look slick, cool, and are pleasing to the eye. While it may look simplistic, it is designed to ease maintenance and give the homeowner the perfect pool owner experience to fit their lifestyle.
Asymmetrical pools are imaginative, fun, and capture the viewer's eye. Their stunning look is created by curves at various intervals, giving your pool a natural flow-like state, as if it was just naturally another part of your backyard. Combined with other natural elements, such as a waterfall, a few decorative rocks, and plants around the pool, you can truly create a tropical paradise for a family escape!
Modern Pool Water Features
Modern pools are known for their comfort and sense of serenity using fountains, scuppers, deck jets, and bubbles. These water features provide visual beauty and gorgeous ambiance through sound. The calming sound of a water fountain or the relaxing sound of the jets running help you relax and enjoy your paradise. Modern pools keep the comfort of the swimmers at the forefront of every design decision.
Special Features That Can Be Added to a Modern Pool
When it comes to convenience and comfort, modern swimming pool designs can be easily upgraded to include tanning ledges and swim-up bars. These elements allow swimmers of all ages to look forward to spending their day in the sun.
Eye-Catching Pool Tiles
The final characteristic of a modern swimming pool is that their styles are always changing. However, what does remain the same is that modern swimming pools make the most out of gorgeous pool tiles that draw the eye to the pool itself. As the main attraction in your backyard, it will stand out and create the perfect backdrop for your summer of fun.
Expert Modern Pool Builds From an Unbeatable Dallas Pool Design Team
Liquidus Pool Services design team has an incredible eye for detail and a passion for making new and pre-existing pool owners happy. We want you to have your dream pool and will work tirelessly to make your dream a reality. Contact Liquidus today to schedule a consultation with our design team and find out how we can transform your backyard. When it comes to pools, no one knows them better than Liquidus.