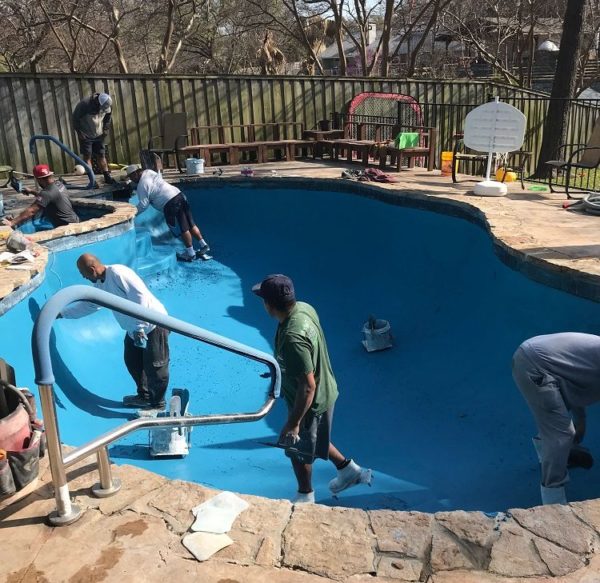 Swimming Pool Resurfacing Company in Dallas TX
Over the years, pool surfaces can lose their luster and develop damage such as cracks or scratches. Although some surfacing materials are made to last for several years, they will eventually end up with wear and tear from repeated use and exposure to the elements. At Liquidus Pool Services, we provide Dallas homeowners with pool resurfacing services to get their swimming pools in good shape again.
When you choose us for pool resurfacing, you can depend on getting high-quality service from pool experts with many years of experience. After being resurfaced, your pool will also be more gentle on your feet and hands. At Liquidus Pool Services, our swimming pool contractors are dedicated to ensuring that you and your family have an enjoyable swimming experience in your pool. When you're unhappy with the look of your pool due to cosmetic flaws or when your pool's surface becomes too rough for your feet, it's time to get in touch with us. We can also address any other surface issues, such as discoloration, etching, and hollows in your pool's plaster.
Inground Pool Replastering
The plaster surface of your pool serves an important purpose – making it waterproof. Without this plaster, your concrete or gunite pool would have a porous surface, which causes your pool to lose water on a regular basis. Plaster for inground pools starts to erode over time, which can lead to unsightly stains, a rougher surface, and structural problems. If your inground pool's plaster is showing its age, Liquidus Pool Services can provide you with replastering services to get it back into optimal condition.
We offer reliable inground pool replastering services for customers in the Dallas area. Rather than leaving plaster issues untreated and putting your swimming pool's structural integrity at risk, count on our experts to replaster your pool's surface quickly. Our team will prepare your pool for this process by sanding down edges, draining the water, shutting off equipment, and taking other necessary steps. We'll then carefully go through the replastering process to ensure that your swimming pool has a fresh and durable coat that lasts a long time. From start to finish, you can depend on our professionals to provide you with outstanding inground pool replastering services.
Concrete Pool Resurfacing
Concrete pools are highly durable, but their surfaces can end up with stains, mildew growth, and other problems as the years go by. When your concrete pool has developed any of these problems, resurfacing can help restore its appearance. At Liquidus Pool Services, our experts offer concrete pool resurfacing services to homes throughout Dallas. Our team of pool professionals can handle every step of the resurfacing process so that your pool can have a concrete surface with a fresh appearance and a smoother feel.
Resurfacing concrete pools is a complicated process, but our experts can get it done in a timely manner while also ensuring that each step is done properly. At Liquidus Pool Services, we have the experience and high-quality equipment required for resurfacing concrete pools. We also have many years of experience providing this service for homeowners in and around the Dallas area. When you need dependable concrete resurfacing for your swimming pool, you can rely on our experts.
If you have a swimming pool that is showing wear and tear, contact Liquidus Pool Services for more information about our pool resurfacing services. Our experts can set up a consultation at your Dallas home to evaluate your pool and determine the best service for it. We offer 30-minute consultations at no charge for your convenience.