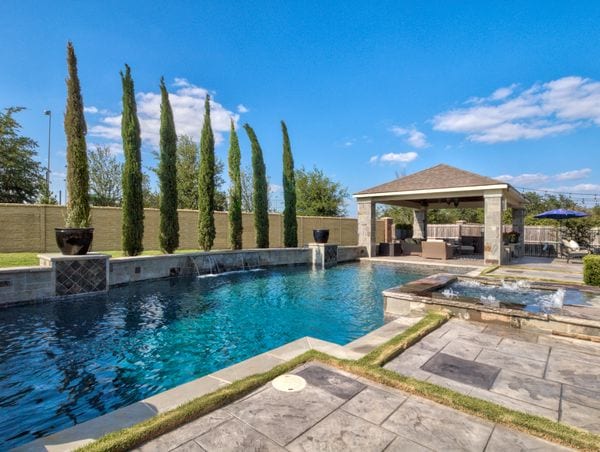 Liquidus's Pool Design Process
Liquidus Pool Services is proud to offer new pool construction to our clients in the DFW area. When you invest in a Liquidus pool, you are investing in a high-quality pool, a partnership with an unbeatable pool team, and years of memory building with your family and friends. At Liquidus, we know there are many options to choose from when it comes to creating your dream pool. This is why we have a professional design team that will sit down with you, find out your needs and wants from your pool, and help you create a truly breathtaking pool paradise.
Swimming Pool Consultation Process
When you contact Liquidus, we will schedule a time to sit down with you and go over the wants and hopes you have for your new pool. We will then discuss other important factors, such as the size of your backyard, special considerations such as pets and children, and go over any concerns you may have.
Pool Studio Interactive Designs
Once we get a better understanding of what you are looking for in your pool and the current layout of your backyard, our design team will get to work. All of our potential designs are created in our advanced 3D imaging software known as Pool Studio Interactive. This incredible software allows our design team to give you a thorough picture of what your new pool will look like in your backyard. From here, we can address any changes you may want and then finalize the plans.
Building Your Brand New Pool
During the construction process, which takes anywhere from 3-8 weeks (depending on the size of the project), we will be in constant contact with you. This allows us to keep the doors of communication open, keeping you in the loop of what is happening with your new pool and allowing us to address any concerns you may have. As we construct your dream pool, you can expect the following:
Respect for your Property: Our team will do everything in its power to ensure that your property is protected and respected. We will thoroughly clean up after every job, allowing you to dive in once the pool is complete.
Professionalism: Our team will continue to check in with you, during the pool building process and afterward to make sure your new pool is exceeding expectations.
Team Work: You will not find a more hardworking team then Liquidus. Not only does our team work well together, but we also take every opportunity to serve our community. We strongly believe when we put others first, we not only build up our community but we also build up ourselves individually. There is no better investment than the investment in our community and staff.
Taking Your Weekend Back
Liquidus doesn't just stop at the pool build. We offer maintenance, repair, and renovation services for all of our pools. When we team up with you, it is a relationship that we hope will last a lifetime. Don't get bogged down by constant pool maintenance but allow our team to do the heavy lifting for you. Take your weekend back and achieve your dream oasis and contact Liquidus Pool Services today!