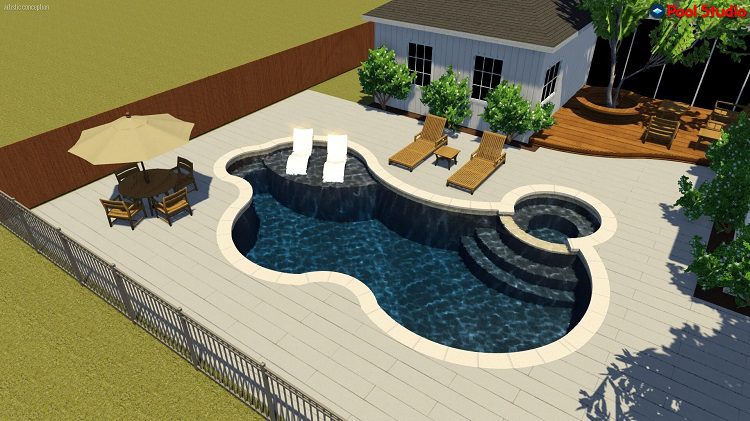 Dallas Backyard Designers
As the leading innovator in backyard designs, Liquidus Pool Services gives our clients the ability to customize their design and see how it will look before making a final decision. All of this is done with the newest innovation in 3D backyard design technology. Be blown away with the endless possibilities available to you when you combine your dreams with the expertise of our designers. Here is an idea of what you can expect when we're designing your backyard remodel.
Pool Studio Interactive Designs
At Liquidus Pool Services, we use Pool Studio software when creating our designs. These 3D Pool Studio interactive designs allow you to see a vivid image of your potential backyard design in a matter of minutes. Our design staff takes your ideas, creates an immaculate design, models the design with the 3D Pool Studio interactive software, and then shows you the result. You may critique our design, and we will make the necessary changes to fit the needs of your family. Don't just picture your newly remodeled backyard – experience it with a 3D Pool Studio interactive design.
Backyard Design Process
Starting with an initial consultation, we will ask you about the features you would like to have installed or already have in your backyard. Pools, outdoor water features, patios, or outdoor kitchens – allow Liquidus to design it all. Once we complete our design, we will call you back for a second consultation. Here we will allow you to experience your potential remodel with our 3D Pool Studio interactive design software. If there are features you do not like, or something you would like to change, we will gladly tweak the design to meet your vision. Once we know that you are in love with your new backyard design, we will schedule a time to begin the project with you.
Construction Phase
Liquidus Pool Services is dedicated to the care and safety of our clients. This is why we take our time on all projects, ensuring that everything is installed and built correctly. All of the products we use are tested for quality assurance. We make sure everything is built to code to maximize safety. In addition, you can be sure that we will follow the model we showed you so that you get exactly the backyard that you're expecting.
Backyard Redesign and Remodeling in Dallas/Fort Worth, TX
Place your backyard remodeling project in good hands with Liquidus Pool Services. Our state-of-the-art technology – combined with our dedication to client satisfaction – is what has set Liquidus apart from the competition. Contact us today to schedule a consultation for your backyard remodeling project, and see it come to life with our 3D Pool Studio design software.
3D Design Videos
Click here for more pool videos from Liquidus Pool Services!