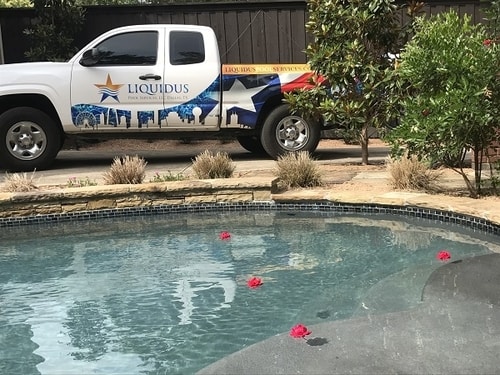 Liquidus Pool Services – Who We Are
Liquidus Pool Services was founded by friends Josh Meunier, Adam Whitcomb, and Garrett Howard on February 15, 2017. They wanted to work in the pool remodeling and repair field because they're passionate about helping people take their weekend back. At every job site, they listen closely to their customers' needs and pay close attention to detail so that the job is finished perfectly every time.
Liquidus serves the Dallas Metroplex, including the cities of Dallas, Richardson, and Plano. Their licensed team performs residential and commercial pool repairs, pool cleaning and maintenance, and remodels for customers throughout the area.
Our Awards, Licenses, and Certifications
Every member of our team at Liquidus Pool Services is licensed and certified. Liquidus makes sure that everyone is a Certified Pool & Spa Operator and a Certified Pool Inspector. In addition, our company is licensed by the Texas Department of Licensing and Regulation (TICL #1012).
Liquidus Pool Services is accredited by the Better Business Bureau. In the short time we've been operating, we have received a Home Advisor Elite Service award and a Home Advisor Top Rated award.