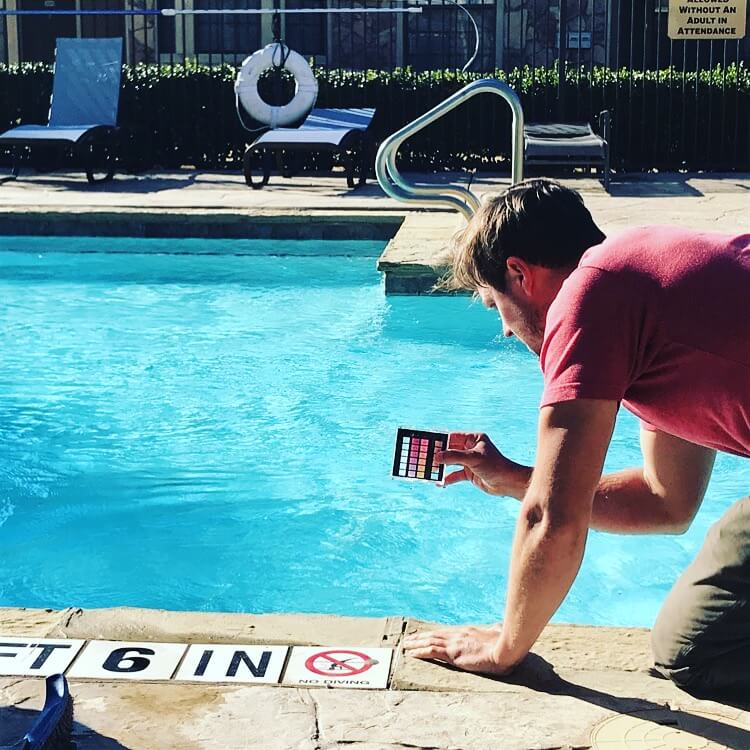 Pool Maintenance Services in Dallas, Texas
Being able to swim in your pool whenever you want means taking the time to keep it in good condition. Swimming pools need regular maintenance to ensure that the water is chemically balanced and clean. The tasks involved in maintaining pools are time-consuming, and they need to be done correctly. You can save time without having to worry if you're handling pool maintenance properly by leaving it to the professionals. Liquidus Pool Services can provide you with routine maintenance for your Dallas home's swimming pool.
When you need a pool maintenance company in the Dallas area that provides dependable service, we're the ones to call. Our team of certified pool professionals has all of the equipment, tools, skills, and experience needed to provide high-quality pool maintenance. When you set up weekly maintenance, you can count on our pool experts to arrive on time and complete the job to your satisfaction. With our team's help, your pool will remain in top condition all year round.
Whether you need weekly maintenance throughout the summer or one-time maintenance to get your pool prepared for the winter months, we'll be there to handle it. Our pool professionals will make sure that your pool is in optimal condition, which helps lower the risk of needing repairs and reduces the amount of wear and tear on equipment.
What's Included in Our Pool Maintenance Services
We provide the following pool maintenance services for our customers in the Dallas area:
Pool Cleaning
At Liquidus Pool Services, we can keep your pool water clean and free of algae on a regular basis, which provides you and your family with a consistently clean and safe swimming environment. Please visit our Pool Cleaning page for more information on what these services include.
Pool Equipment Maintenance
Your pool equipment can end up having a lot of wear and tear over the years. Pool equipment maintenance can reduce this and help these items last longer. Our team at Liquidus Pool Services can provide you with maintenance for your pool equipment so that you won't have to replace it sooner than expected or face unexpected repairs.
Weekly Maintenance Report
When you hire us for weekly pool service, we'll provide you with an updated maintenance report each week. This report, which you'll get in an email, lets you know what specific services we provided, what chemicals we used, and whether or not we detected any problems with your pool. If our team did find any issues, we can follow up with you and perform more in-depth repairs if needed.
Weekly Pool Service in Dallas
Regular maintenance is important for your swimming pool, especially if you plan to use it often during the summer months. Having this maintenance done each week is a great way to keep your pool in good condition on a regular basis. Liquidus Pool Services offers weekly pool maintenance in the Dallas area, so you don't have to worry about finding time to set aside to do these tasks. Instead, our professionals can come out to your home each week and take care of these maintenance tasks. We'll make sure that your pool stays clean and that your pool equipment remains in excellent condition.
At Liquidus Pool Services, our experts come prepared with all the equipment and supplies needed for pool maintenance. From checking your filters to balancing the chemicals in your pool, our team can make sure that your swimming pool is in great shape. This means that you can enjoy your free time without having to fit in time for pool maintenance.
One-Time Swimming Pool Service
If you're usually able to maintain your pool on your own, there might be times when you could use a helping hand from professionals. This might be when you want to make sure that your pool is fully prepared for winter or when it's time to get your pool ready for use in summer. You also might need one-time swimming pool maintenance while you're away on vacation since you're not around to handle it. No matter what reason you have for needing maintenance on a one-time basis, the experts at Liquidus Pool Services will be there.
After completing your swimming pool maintenance, our experts will let you know if we encountered any problems that need pool repair with, such as equipment issues. Our team will also provide you with detailed information on the condition of your pool. If needed, we can also offer helpful advice and tips on keeping your pool in good condition throughout the year. When you need your next pool maintenance, you can count on us for exceptional service.
Whether you need weekly or one-time pool maintenance at your Dallas home, you can count on Liquidus Pools. Contact us for more information on our pool maintenance services or to schedule these services for your swimming pool.