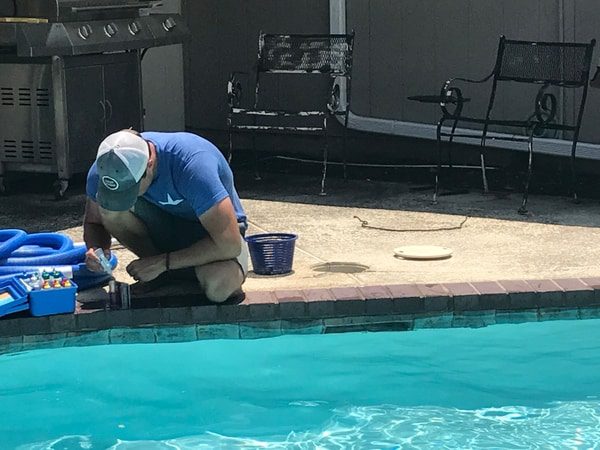 When you hire a pool service company, you should know what to expect from them. At Liquidus Pool Services, we're proud to offer complete and thorough services performed by licensed and experienced professionals. Our team can take care of all the tasks needed to keep your pool clean and well-maintained.
Whether you've hired a pool service company before or this is your first time, you're probably wondering what to expect from our pool maintenance services. Read on to learn more about the services offered by the team at Liquidus Pools.
What is Included in my Weekly Pool Service?
At Liquidus Pools, we perform all necessary cleaning tasks to keep your pool looking beautiful and running efficiently. Our weekly pool cleaning services include:
Testing and balancing of basic chemicals
Brushing
Skimming
Vacuuming
Emptying of pump & skimmer baskets
Pressure and equipment checks by a certified pool & spa operator
Additional Services Offered
The addition of specialty pool chemicals such as phosphate, algaecides, and conditioners are not included in our basic weekly cleanings. However, we can take care of balancing these chemicals when needed. You can purchase pool chemicals directly from us or on your own.
Furthermore, pool filters will need to be cleaned from time to time. When the cartridges in your cartridge pool filters need to be changed or replaced, we can take care of this process for you. We can also backwash sand filters and DE filters, and change the sand or DE as needed.
Which Day of the Week Will My Pool Be Serviced?
99% of the time we will be there on the same day each week. However, if there are extenuating circumstances such as inclement weather, we may not be able to show up on the scheduled day. In these cases, we'll make sure to service your pool within the next 24 hours.
Weekly Log Collection and Email Report
It's important that you be kept up-to-date regarding the health and status of your pool. That's why at Liquidus Pool Services, we provide weekly email reports after performing maintenance on your pool. We'll make sure that you're aware of the work that we completed.
In addition, we'll let you know of any further maintenance tasks that we recommend for your pool, such as filter cleanings, broken tile replacement, or pool resurfacing. We send emails containing our reports to customers every week where we communicate any additional steps we recommend or things you should know about your pool.
Convenient Payment Options
We send bills between the 1st and 5th of every month (provided there are no holidays). Payment should be posted by the last day of the month. You can pay invoices or set up auto-pay on our member portal. The member portal also allows you to manage communication and view the history of pool services performed.
Pool Repair Services We Offer
If you need additional for your pool, we can perform these as well. Some of the pool repair services we offer include:
Pool plumbing repairs

Drainage
Landscape lighting
3D designs
and more

Licensed equipment repairs (TICL #1012)
Commercial Pools
We also offer education classes for commercial pool owners. The team at Liquidus Pool Services has developed a series of emails that will teach you more about your pool each week. In addition, we offer education classes for commercial pool maintenance staff to teach them how they can help to keep the pool in good shape.
Contact Liquidus Pools and Sign up for Service
For questions/concerns, please call or text us at 214-903-3732. You can also fill out our contact form online or email us at customersupport@liquiduspoolservices.com. We hope to hear from you soon. With our help, you can Take Your Weekend Back! Sign up now and get $50 off your first month