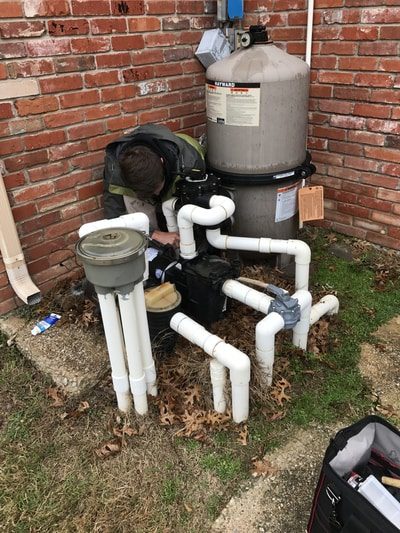 Dallas Inground Swimming Pool Plumbers
Your swimming pool's plumbing probably doesn't cross your mind too often, unless there's a problem with it. The pipes and other plumbing components for your pool are usually taken for granted, but they are an important part of ensuring that your swimming pool is in good shape. Problems with your pool's plumbing can lead to expensive water bills or even damage to your property that requires costly repairs.
When you run into a problem with your swimming pool's pipes or drains, you don't have to worry about finding a reliable local plumber to come to your property to fix it. At Liquidus Pool Services, our team of pool experts have the experience, skills, and licensing to provide you with pool repair services. When you need Dallas inground swimming pool plumbers to repair plumbing problems, you can rely on us for timely service. We understand how important it is to prevent pool plumbing problems from becoming worse. That's why we encourage you to let us know as soon as you detect any issues with your plumbing.
Solving Pool Plumbing Problems
Our swimming pool plumbers will arrive at your home or commercial property with all of the equipment and tools needed to find your plumbing problem and get it repaired quickly. Our experienced pool plumbing professionals know where to look and what to inspect in order to find the cause of your pool's plumbing problem. As soon as we figure out the cause, we'll begin repairing it. You can count on us to get your pool plumbing working properly again.
Repairing Pool Plumbing
When you have plumbing parts for your swimming pool that need to be cleaned or cleared out, our team at Liquidus Pool Services can take care of it. Our experts have the proper licensing to do plumbing work for residential and commercial pools in the Dallas Metroplex. When you have a swimming pool, it's important to ensure that the plumbing is well-maintained. Our professionals can make sure that this happens and handle any cleaning that is needed over time.
You don't need to look for a plumbing company to take care of your pool plumbing needs. When you trust Liquidus Pool Services with pool maintenance, you'll get experts who know all about these systems. Our team has the experience and expertise that is needed for cleaning and maintaining pool plumbing for customers in the Dallas area. Whether you have a plumbing system that needs a routine cleaning or a blockage that needs to be removed as soon as possible, you can depend on us to provide you with the services you need.
How To Tell If You Have a Pool Plumbing Problem
Your swimming pool's plumbing system is made up of pipes, valves, and other parts that keep water flowing smoothly. Problems with plumbing components can have a big impact on your pool, such as causing it to lose too much water. When you have to keep refilling your pool to make up for the water loss, you can end up with skyrocketing water bills. Problems with the plumbing system can also affect your pool's filter system, which can affect how clean the water is. No matter what kind of problems or issues you're having with your plumbing pipes and other parts, Liquidus Pool Services can help.
You might notice some of the following signs that could indicate a pool plumbing problem:
Higher water bills than normal
Problems with the pool filter, such as air getting into the system
Leaky backwash valve
Regardless of the kind of plumbing problem you have, it's important to have pool plumbing repair done as soon as you can. The experts at Liquidus Pool Services are available to provide you with the pool service you need to get your pipes and other components back in good working condition. When you have us work on your pool plumbing issues, you can expect to receive superior quality service for all of your pool plumbing issues, no matter how big or small.
If you need any help with your pool's plumbing, contact Liquidus Pool Services in the Dallas Metroplex. We provide prompt and reliable pool plumbing services for residential and commercial customers.