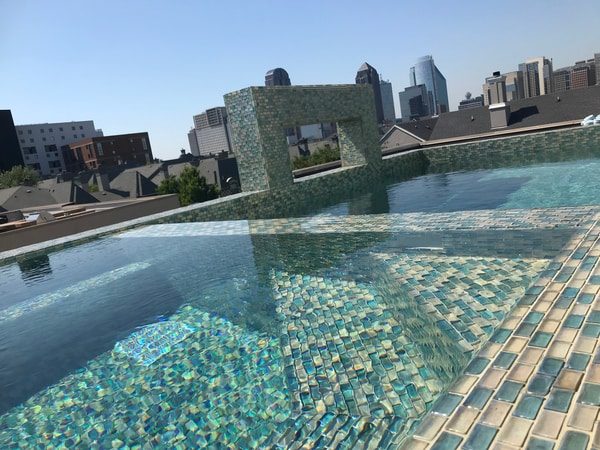 The gorgeous sound of water running from a waterfall can help anyone relax and forget the stressors of the day. Pool water features are an immaculate addition to any pool and can help you increase the pool's overall value. They create the perfect atmosphere for relaxing, reading while spreading out on your pool lounge-chair, or having a chat with family or friends.
If you are looking to remodel your backyard pool by adding some unique water features, put your trust in Liquidus Pool Services. Our experts know the perfect techniques to set up stunning water features while ensuring that it has enough filtration to keep your pool healthy. Call Liquidus Pool Services today to set up a free consultation about installing a water feature in your backyard and pool.
Sheer Descent
A sheer descent is a gorgeous water feature that creates a stunning linear waterfall. Sheer descents come in a variety of lengths, ranging anywhere from 8 inches to 8 ft. They can be adjusted to create different water sounds, such as a silent sheet of water or a roaring tropical waterfall. When it comes to installing a sheer descent water feature to your pool, no one does it better than Liquidus Pool Services. Our experts can help you design and choose the perfect angle and sound for your home. Add an extra sense of adventure or a more serene feel to your pool with a sheer descent waterfall installation today!
Waterfalls
Waterfalls have captured people's imagination for years. Liquidus Pool Services can help you build a gorgeous waterfall for your naturalistic pool design. We can use real rocks and boulders, plants, or even faux ones, to create the waterfall of your dreams.
Fountains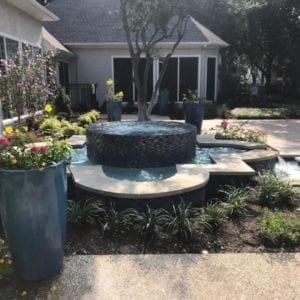 From spillover fountains to floating fountains, Liquidus Pool Services can help you design and install them all. Fountains create a calming sound over your pool and circulate your water, leaving it feeling cooler despite the hot temperatures outside.
We even build stunning waterfalls for your backyard, not just your pool. Listen to the soothing sounds of falling water as you walk through your garden or have a picnic in your backyard. No matter what the occasion, a waterfall is a beautiful centerpiece that creates a calming ambiance for your family and guests.
Water Wall
If you want to 'wow' your family and guests, why not consider installing a water wall? A water wall can be made out of beautiful stone or tile. The water then spills gently out of the top to create a nice sheen over the tile or stone, allowing it to sparkle in the sunlight.
Raining Curtain
Usually mounted on a wall or pergola, a raining curtain will create a curtain of water that falls into your pool. These beautiful curtains can be wide or narrow, depending on your preference, and look great in any pool. Take your pool to the next level with a raining curtain water feature from Liquidus Pool Services.
Scuppers
A scupper is a beautiful pouring of water out of a slot or spout that is made into a wall or pedestal. There are many different flow styles you can choose from, including a chute, trough, or sheet. Scuppers are a great way to add an extra flair to your pool without having to change its overall look.
Deck Jets
Deck jets are a fun water feature that can be installed into any pool deck. It shoots a narrow arching stream into your pool and creates a bit of motion to your pool's surface. Added with LED lights, whether colored or white, deck jets can create a neat aesthetic that is sure to please your family and guests.
Waterslides
Waterslides are a popular addition to any pool. From waterslides that resemble a natural waterfall to crazy and fun twists with bright colors, Liquidus Pool Services are the masters at waterslide design and installation. These slides will provide hours of entertainment and fond memories that will last you and your family a lifetime.
Water Feature Installation
Create an outdoor oasis for your home by investing in immaculate water features from Liquidus Pool Services. Our experts can help you design the perfect water feature to go with your pool and show you want it looks like before installation with our 3D Pool Design Software. If you are looking for a perfect place to escape to after a stressful day, contact Liquidus Pool Services today!