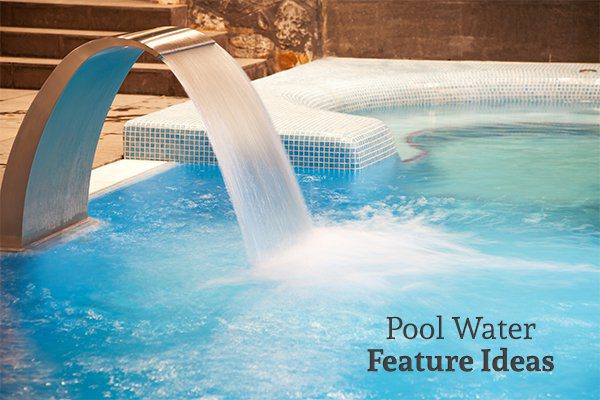 Water features can transform the ambience and elevate beauty of your pool. They can add visual interest to your pool that draws the eye in certain ways that highlight your pool's best features. Different water features will have different effects, though, so here is a guide to help you select the water features that will best complement your pool and outdoor living area.
Types of Water Features for Your Dallas Swimming Pool
There are a variety of water features available to you, especially if you are in a warmer climate like Texas. Knowing what options are available to you can help you make sure that you end up with the perfect choice for you. Here is a rundown of the different types of water features you can feature in your pool.
Fountains
Fountains are a great way to create an elegant and relaxing feel in your pool. The tranquil sound of running water helps relieve stress while the soaring water adds incredible visual appeal. In addition to the aesthetic benefits, fountains help the water circulate which allows the pool to remain cooler and cleaner.
Liquidus Pool Services Pool Water Feature Ideas: Pool Bar With a Fountain
If you want to spice up your pool, why not create a poolside bar complete with a gorgeous fountain? It will be the perfect area to enjoy a nice cold drink, conversation with friends, and gorgeous summer nights, all while being surrounded by the comforting sounds of running water.
Water Bowls
Water bowls, (also known as water pots or water woks), create a spa-like feel as the water pours out from one side of the bowl and falls into the pool below. They work especially well when placed on raised walls or raised columns. Water bowls can actually be round or square in shape and can be built from various materials ranging from stainless steel to concrete to hammered copper. When considering which option is best for you keep in mind that square bowls tend to look great with contemporary pools, while round bowls blend better with lagoon-style or free-form pools.
Waterfalls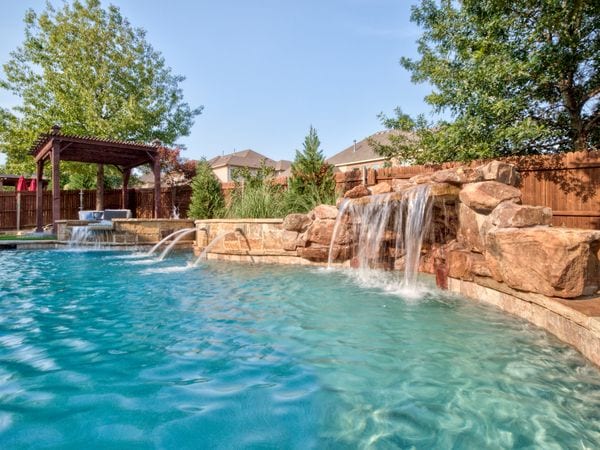 Waterfalls can be incorporated into any pool design to add great visual appeal and better circulate the pool water. There are many practical benefits to improving water circulation, such as keeping the water cooler, and discouraging algae growth. Overall, waterfalls create a tranquil and relaxing environment for you to enjoy with your family and friends.
Deck Jets
Deck jets are installed on the pool deck or the pool coping. This type of water feature sends beautiful arcs of water streaming from the edge of your pool towards its center. Though the arcs of water typically reach heights of 4 to 5 feet, the height can be adjusted to match your preference. This option is an affordable way to add elegance and beauty to your backyard oasis; enjoying a luxurious pool doesn't have to break the bank.
Rainfall Curtain
This type of water feature is suspended above your swimming pool and creates a sheet of water that continuously falls into the pool. The illusion of rainfall can add a peaceful vibe to your pool while increasing water circulation as well.
Pool Geysers
Several pool geysers are often installed together on one pool to enhance the overall design. Each geyser can be programmed to shoot water out in different sequences and patterns. With the right pool lighting, you can create a stunning nighttime water show that will entertain you and your loved ones for a long time to come. This is the perfect option for pool owners who want an eye-catching water feature with lots of customization options. With pool geysers, there's an abundance of variety at your fingertips to make your pool uniquely beautiful.
Caring for Your New Water Features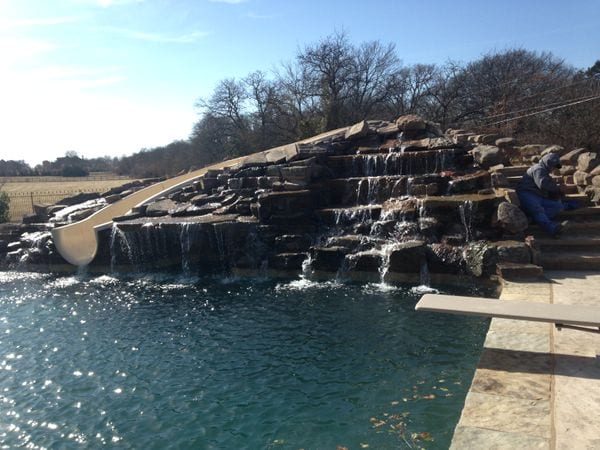 Adding a new water feature can transform your pool experience but don't forget that pools with extra water features need extra maintenance. Whether you're looking for remodeling options or routine maintenance, our experienced team at Liquidus Pools can help you keep your pool feeling clean and fresh. Please contact us today to schedule an appointment or consultation!