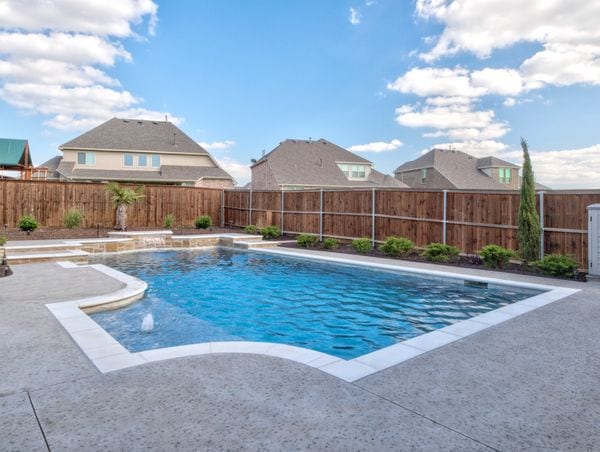 Free-Form Swimming Pool Construction
When it comes to pool designs, sometimes the best look is a natural one. Free-form pools are not bogged down by a specific shape, as they are made to resemble natural bodies of water. Free-form pools have the flexibility to fit into any shape and are not restricted to the hard lines that you would find in a classic rectangular pool.
Whether you want your free-form pool to look like a gorgeous lagoon complete with natural rock fountains and stone decking, or a natural oasis bordered by beautiful plants, Liquidus Pool Services can make it happen. Take back your weekend and relax in a custom free-form pool crafted by our incredible new pool construction and design team!
Unparalleled Pool Design
The biggest advantage of free-form pools is their ability to fit into any shape or size backyard. Since free-form pools are so flexible, the pool can blend seamlessly into its surroundings, following your yard's natural curves. Adding complementary plants, gorgeous stone, or wood decking can create a paradise that seems to come right out of a fairy tale. Wow, your neighbors and delight your family by bringing your dream pool to life!
Trust in Liquidus's Expert Pool Design Team
When you invest in Liquidus, you are putting your trust in our incredible design team. We will begin by using 3D Backyard Design software to show you what your new pool will look like in your backyard. We will take all of your concerns, wants, and considerations and put them at the forefront of our design. This way, not only are we meeting your expectations, but this also allows our team to surpass them! The result is a gorgeous, one-of-a-kind pool that will be the highlight of your backyard and summer.
Adding In Additional Pool Features
Free-form pools also lend themselves well to adding additional features. Whether you want a waterslide, an attached spa, or a waterfall to help circulate the water, all of it can be seamlessly put into a free-form pool. We can take these elements and time them into a paradise theme, masking them with beautiful stones, plants, or even gorgeous tiling. This will add an extra layer of visual appeal that will leave your swimmers in awe.
Free-Form Pool Construction
If you are looking to wow your neighbors with your new pool, there is no better team to call then your local pool experts at Liquidus Pool Services! We can help you make your dream pool a reality. No matter what your pool or backyard remodeling needs are, we can make it happen. Contact Liquidus Pool Services today to schedule your consultation!