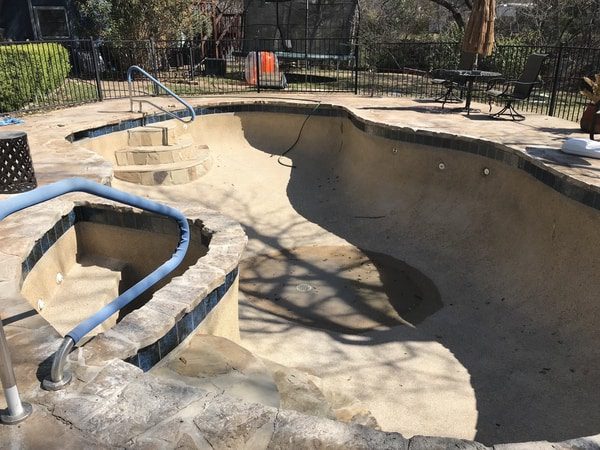 Pool Renovation Services in Dallas, Texas
When you're looking for dependable Dallas pool remodeling services for your home, our team of experienced pool contractors at Liquidus Pool Services can help. Our experts can do a full remodel to give your pool a completely different appearance or to make it more impressive overall. We can also restore your pool if it's showing signs of wear and tear so that it looks brand new again. If you just want a tanning ledge or a few other small features added to your pool, we can help with that as well.
Our pool experts can help you decide which of our remodeling services would best suit your pool if you're not exactly sure about the changes you want to make. Whether that ends up being a small renovation project or a large remodeling project, you can count on our highly skilled pool professionals to do the job. At Liquidus Pool Services, we're committed to providing all of our Dallas customers with the pool remodeling services they need to enhance their swimming pools.
Pool Restoration
Swimming pools are made to be durable since they get quite a bit of use over the years. However, it's common for even the hardiest pools to eventually show signs of wear and tear. When you have a pool surface that's chipped or worn or other signs of age or damage, you don't have to get rid of your pool and have a new one built. Instead, our experts can provide you with pool restoration that can get your current pool looking as good as new.
If swimming in your pool has become less comfortable over the years due to wear and tear, or if your pool is looking a little rough thanks to scratched or marred surfaces, our experts can restore it to its former glory. With help from the pool professionals at Liquidus Pool Services, your pool can look its best again and provide you with a comfortable swimming experience. That way, you and your family can enjoy it for many years to come.
Swimming Pool Remodels and Renovations
When you have a swimming pool that is older or when you're tired of the way your current pool looks, you don't have to invest in a brand new one; our pool professionals at Liquidus Pool Services in Dallas offer inground pool remodels so that your pool can get a whole new look. This might mean adding a tanning ledge, decreasing the pool's depth, or having minor remodeling done to give your swimming pool a different look.
From adding the structure and plumbing for a waterfall to installing LED pool and strip lighting, we can go through your options for add-on features that can make your swimming experience even better and improve your pool's entire look. If you want to have a few minor remodeling changes made to your swimming pool, our experts can handle these as well. You can depend on our professionals to provide you with advice on renovations while also taking your input into consideration. This helps ensure that you get the results you want for your swimming pool so you can get the most out of it.
If you're ready to get started on your swimming pool remodeling, restoration, or renovation project, contact Liquidus Pool Services to speak to one of our experts. We look forward to taking your drab or old pool and making it the pool of your dreams.