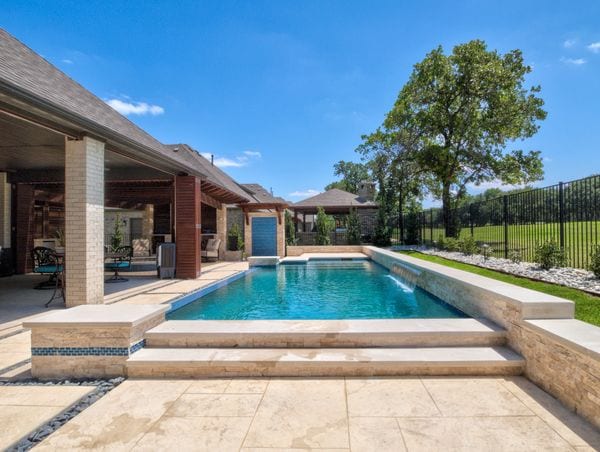 Rectangular Inground Swimming Pool Designs
Rectangle swimming pools are an all-time classic. They have the unique ability to fit into any backyard, big or small, and look magnificent. With the right tiles, decorations, and design team, your rectangular swimming pool can become part of an outdoor paradise where your weekends will be spent in luxury. Don't settle for boring and contact the trusted team at Liquidus Pool Services today to learn more!
Redefining Beauty of the Rectangular Swimming Pool
Many people overlook rectangular swimming pools. While they are a classic, some individuals label them as boring or uninspired. Our design team wants you to throw away those notions and consider these possibilities:
Tropical Paradise Rectangular Swimming Pools
What makes a pool a paradise isn't the shape, but the heart, thought and effort that goes into the build. The keen eye of our Liquidus Pool Services specialists will make sure to bring out the best of your new pool. We can add beautiful tiles that show off the clean, satisfying lines of your rectangular swimming pool. Also, with breathtaking ornamentations such as fountains, jets, scuppers, native plants, and rocks around your pool, it will become a captivating showpiece for your home.
Lends Well To Additional Features
One of the key advantages of rectangular swimming pools is that they lend themselves well to added features. Rectangular swimming pools are perfect for automatic swimming pool covers or added spas. Also, with the ability to fit into almost any space, rectangular swimming pools leave enough room for gorgeous patios along with an outdoor grill or firepit.
Fits Any Shape Yard
Not every pool owner has a massive backyard but that doesn't mean they can't have a high-quality pool. Rectangular swimming pools are perfect for both large and small backyards, as most backyards are already rectangular or square in shape. Rectangular swimming pools are very flexible when it comes to their size, making it easy to fit in well to any shape or size backyard. If you can envision it, we can build it.
Don't Say Can't Because We Can
Many pool owners shy away from rectangular swimming pools but our team at Liquidus knows the amazing possibilities that can be unlocked with an incredible pool team and a little imagination. Transform your backyard and into a weekend paradise by calling Liquidus Pool Services today and getting started on your new pool construction!