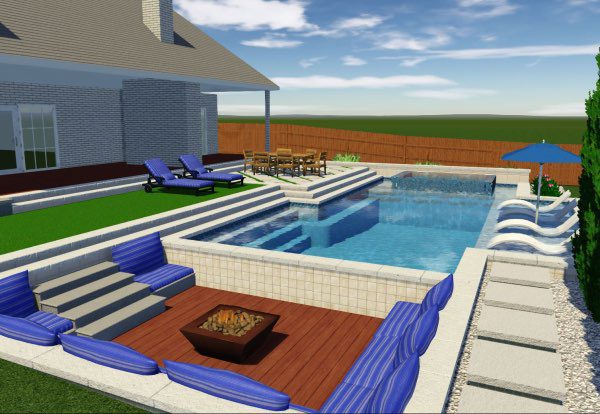 Patio and Deck Construction
Have you ever wished you could add living space to your home without a full-room expansion? Liquidus Pool Services has a solution for you. Installing a beautiful patio or deck gives your family extra space to relax in the gorgeous outdoors. Whether you are looking for a pool deck, a patio with a nice outdoor fireplace, or just a place to have an outdoor picnic, Liquidus Pool Services can make your dreams a reality. Schedule a consultation today to get an estimate on your brand new patio or deck.
Patio Designs
No matter your personal style, Liquidus Pool Services has the design. We offer a wide variety of different materials from which to choose, including:
Wood. Wood decks create a rustic feel to any home and create a nice cool environment to hang outside. Unlike concrete or stone, wood doesn't hold heat, making it the perfect material for a poolside patio.
Concrete. Concrete patios are a mixture of sand, water, cement, and gravel that can create a wide variety of different colors and styles. Concrete allows you to choose which color and look you want for your home. Here are the possibilities when choosing a concrete patio:
Smooth
Stamped
Brushed
Scored
Colored or tinted
Decorated with inlays
Painted
Surfaced with other materials including pebbles
Patterned
Spray deck finish
Stone. Stone offers an immaculate and sophisticated look as it can come in a wide variety of colors and types. Stone also provides great traction when wet, perfect for preventing slip-and-fall accidents around pools. Here are the stone options offered from Liquidus Pool Services:
Sandstone
Limestone
Bluestone
Quartzite
Pavers can be made to look like brick, cobblestone, or cut stone. For a homeowner on a budget, this is a cheaper option while retaining the beautiful look of stone.
Brick is a long-lasting and classy option. Brick maintains a clean and neat look throughout the year. It can work for almost all housing styles, rustic, modern, or ranch.
Tile is the perfect option for those who are looking to create a deck that is under the shade of a pergola or trellis. Our tile options can be made of marble, travertine, and wood tiles.
Patio Construction
When you are ready for an incredible new patio, call the professionals at Liquidus Pool Services. Our team can help you choose the perfect design and style for your home. Whether that be your standard patio combined with an outdoor dining or kitchen area or a recessed seating area for your pool, our team can make it happen.
Deck Designs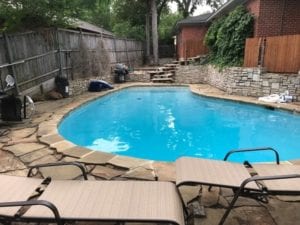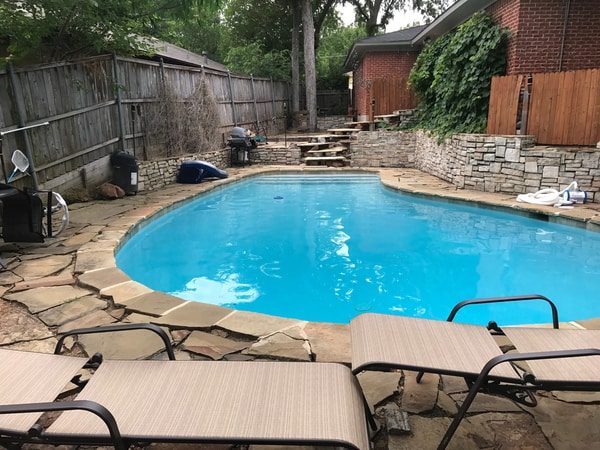 A deck is another great option for your home. It is higher off the ground, allowing you to make use of the space underneath and gives you a higher vantage point in your yard. There are a variety of different deck designs you can invest in, but these are some of our personal favorites:
Built-In Benches and Bars provide the perfect place to hang out with friends or family. The built-in benches can create the ideal seating arrangement, and this type of style works well with low-height decks. Along with a bar-height counter integrated into the railing, you can have a perfect spot to serve your favorite drink.
Covered Decks can give you some space away from the sun. Decks can be covered with pergolas or an awning to provide you with some protection from the sun and inclement weather. This is perfect for giving your family time to dry off after swimming in the pool or someplace to enjoy a nice conversation.
Decks with varying levels can accommodate yards with varying elevations. They help create a stylistic approach and allow for more seating areas for your family and guests.
Deck Accessories
There are other accessories you can add to your deck to give it your unique style and added comfort:
Windows or screened walls
Sundeck
Outdoor Heaters
String lighting
Shades & Curtains
Planters, plants, & moss
Outdoor rated TV sets
Deck Construction
No matter your style, Liquidus Pool Solutions can make it a reality. We have a wide variety of different materials from which to choose. Here are some of the options we provide:
Pressure-treated wood
Redwood cedar
Hardwood
IPE
Massaranduba
Mahogany
Composites and vinyl PVC
Patio and Deck Construction Specialists
If you are looking to add some extra living space to your outdoor living area, Liquidus Pool Services can make it happen! Contact our professional team today and learn more about all of our backyard renovation and pool services in the Dallas area.