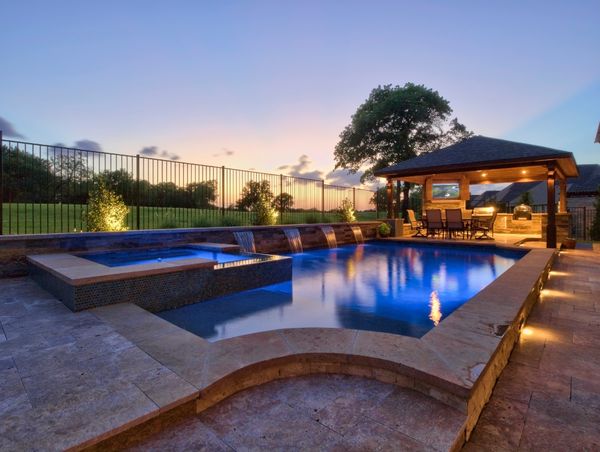 Outdoor Lighting Designer
Complete your backyard remodel with an immaculate landscape lighting design and installation from Liquidus Pool Services. We know what it takes to create an outdoor atmosphere that is inviting and a hotspot for social gatherings with family and friends. Not only does landscape lighting improve the aesthetics of your home, but it also helps boost security. Fight back the darkness by investing in beautiful outdoor lighting by Liquidus Pool Services. We specialize as an outdoor environment design and contracting company with water as the central element. Contact us today for an estimate on your new landscape lighting design and installation.
Types of Outdoor Light Fixtures
From path lights to spotlights, Liquidus Pool Services has solutions to all of your outdoor lighting needs! We want you to feel proud to show off your newly renovated backyard or pool, and there is no better way to do that than by installing brand new outdoor lighting. Here are some of the lighting options we have to offer:
Poolside Deck and Pool Lights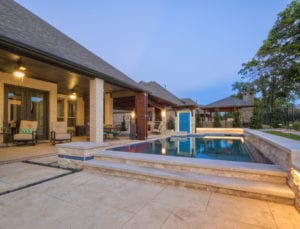 Keep your swimmers safe; use Liquidus Pools to design and install professional poolside lighting. Shed some light on slick spots on your pool's deck or patio to prevent your guests from slipping. Allow your pool party to stretch into the night by using the beautiful pool and deck lights. Show off the gorgeous aesthetics of your pool by using different colored LED lights, playing off your pool and deck's natural beauty. Liquidus has the answers to all of your poolside lighting needs.
Floodlights
Floodlights can help spread light over your backyard and chase away the shadows. Floodlights not only add an extra layer of security, but they can be angled to show off the beauty of your home's exterior walls and stone or shine on the trees and foliage.
Well-lights and Path Lights
Lighting can beautifully enhance a garden by giving it a soft glow from underneath plants and shrubs. Combined with path lights, you can create a garden masterpiece and keep your guests safe by revealing any potential tripping hazards.
Well-lighting sits in the ground and shoots up beautiful lights that help bring out the vibrant colors of your trees. It can also be used to highlight unique features in your backyard, such as a statue, unique rock garden, or the walls of your home.
Spotlights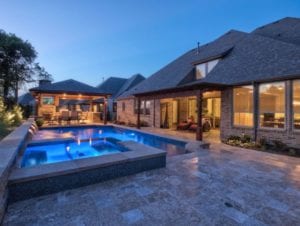 Show off spectacular features of your backyard, such as a water feature or statue, by adding spotlights. Bring the eye's attention to that outdoor garden sculpture your child made or one of Liquidus's masterfully built fountains. They will look amazing under the glow of the spotlight.
Budget Friendly-Landscape Lighting Packages
At Liquidus, we understand that your financial well-being is extremely important. This is why we offer box lighting packages that stay within your budget without sacrificing quality. For more information, please schedule a consultation with one of our outdoor environment specialists today!
Exterior Lighting for a Beautiful Home
You have invested a lot of hard work, time, and money into your home and backyard. Why not show it off? With Liquidus's professional landscape design and installation, we can help you create a nighttime paradise. Take full advantage of your relaxing weekends by lounging by the pool or taking a stroll through your newly renovated backyard. You can trust that Liquidus Pool Services can turn it into a reality. Contact our team today for more information on our landscape lighting services and for an estimate. Together, we can help you take your weekend back.