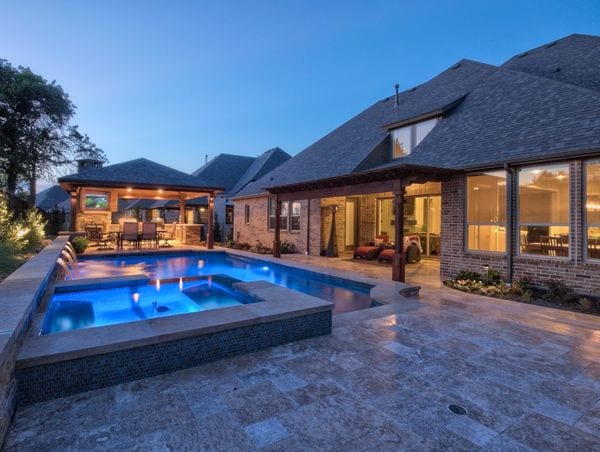 New Pool Construction in the DFW Metroplex
Texas is infamous for its hot temperatures. However, you don't have to suffer through them. Give your family a paradise in which they can create memories and beat the heat. Liquidus Pool Services has been one of the top pool builders in the DFW area since its founding in 2017. We specialize in custom pool builds, pools that incorporate natural-looking water elements such as rock waterfalls, and even pools with built-in spas. Whether you want a saltwater pool or a chlorine pool, we have the answers. Contact us to find out how we can transform your backyard with a gorgeous new pool construction!
Taking Your Weekend Back With Custom Swimming Pool Builds
Your home is as unique as the individuals who live in it, so why would you settle for a standard looking pool? At Liquidus Pool Services, our expert design team sits with you to create an oasis you will love. We work with a 3D backyard design software that allows you to visualize your new oasis and how it will fit into your backyard.
Once you have a design you're happy with, we then move to the construction phase. Our experts use only the most trusted practices in the trade. This lowers the risk of your pool running into installation issues, reduces the need for costly repairs, and allows you to use your pool as soon as it is constructed.
Depending on the size and complexity of your pool, our team will have you enjoying your backyard escape in as little as 8-10 weeks. We believe in open and honest communication, and will keep you updated with a timeline so that you know exactly how your pool is coming along every step of the way. No guessing, no frustration, just open communication, and high-quality construction.
Dallas Inground Pool Builder
Inground pools are a perfect addition to any backyard. When it comes to custom pool builds by Liquidus Pool Services, we always keep you in mind. This is why we sit down with our clients and go over what it is they hope to get out of their pool. We then sketch up possible designs on our 3D Pool Studios software. Once you approve our design, we then set to work on building your dream pool!
Our inground pools can come in the following shapes and styles:
Creating Your Dream Backyard Design
Liquidus is proud to offer a variety of pool tiles and water features to help you design the pool of your dreams. We just don't stop there though – our team also offers complete outdoor transformations to accompany your pool build. Whether you want a patio to go along with your pool, an elegant custom fire pit to give your swimmers a warm place to rest in between swims, or an outdoor kitchen to refuel at, we can get it done.
How Much Does a New Pool Cost?
The cost of an inground pool can vary depending on the build's size and complexity and what materials are used. However, with proper care and maintenance, you will see a huge return on your pool investment. Not only will you be investing in a lifetime of memories, but the value of your home will also significantly increase.
Worried about paying for your custom pool? Don't be! At Liquidus Pool Services, we offer financing and payment plans to help you obtain your dream pool without putting you in financial straits. When you meet with us, we will go over what your budget is and help you create a pool that fits within your means. Our goal is to ensure that you and your family are taken care of.
The Liquidus Guarantee
What sets Liquidus Pool Services apart from other pool companies is that Liquidus sticks with clients after the build is done. We offer a wide array of pool maintenance services, ensuring that your pool is taken care of so that you can enjoy the many benefits your pool has to offer. From routine maintenance to repair services, our team has your back. We know this is one of the most important decisions your family can make concerning the value of your home, and we want to make sure you have a breathtaking build. Contact our team today for more information or to schedule a consultation with our design team.