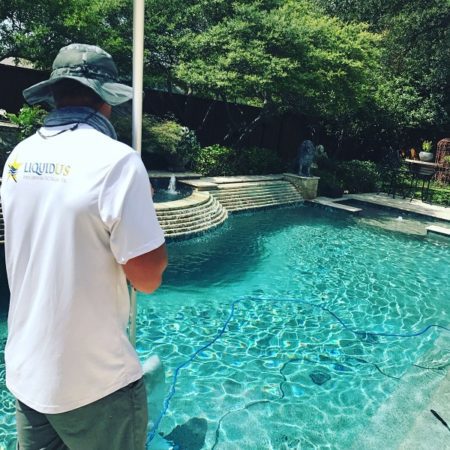 Best Pool Cleaning Company in Dallas
Your pool provides you with an ideal place to beat the heat in summer, so it's important to make sure that it stays clean. Over time, pools can collect debris such as leaves and insects. Bacteria can also build up in the water if it's not kept clean. Pool cleaning ensures that your swimming pool is a pleasant and safe place to swim, while also reducing the need for repairs. Keeping your pool clean can also help it last longer before needing to be replaced or restored. At Liquidus Pool Services, we offer thorough pool cleaning in Dallas to ensure that you have a clean swimming pool throughout summer.
Cleaning your pool can take up a significant amount of your time, but our pool cleaning company in Dallas is here to help. Leave it to our team of certified pool operators to handle all pool cleaning tasks for you so that you can have more time for yourself. We come fully prepared with all of the tools, supplies, and equipment needed to get your swimming pool as clean as possible. With our help, you and your family can swim safely all summer long. From clearing debris and dirt from the water to cleaning filters and other pool equipment, we'll make sure that your pool is in top condition.
Dallas Weekly Swimming Pool Cleaning & Maintenance
At Liquidus Pool Services, we know how time-consuming it is to stay on top of swimming pool cleaning and maintenance on a regular basis. We're here to handle all of that for you, giving you more free time to enjoy. We offer weekly swimming pool cleaning and maintenance to take these tasks off your hands and give you your weekend back. Our pool professionals will come by once a week to perform a wide range of cleaning and maintenance tasks that keep your pool in the best condition possible and reduce the need for repairs. To learn more about what is included with this weekly service, please visit our Pool Maintenance page.
One-Time Pool Cleanings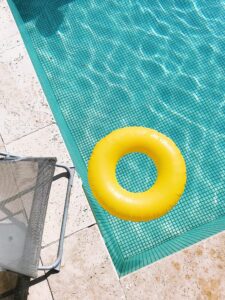 Pools can collect quite a bit of debris and dirt, especially when they're uncovered during the summer months. When your pool could use a good cleaning, the experts at Liquidus Pool Services can help. Whether you need your pool cleaned before using it in summer or you want to make sure it's spotless for an upcoming pool party, you can count on our certified pool professionals.
We offer one-time pool cleanings for homeowners throughout the Dallas area. Basic services include testing and balancing the main chemicals, vacuuming, skimming, and emptying pump and skimmer baskets. We also check and, if needed, clean your pool filters so that they can do their job of helping your pool stay clean. These services are an important part of keeping your pool free of debris and bacteria so that you can swim safely.
At Liquidus Pool Services, we also offer more in-depth chemical and conditioner additions for swimming pools, such as phosphate solutions and algaecides. Please keep in mind that these specialty chemicals are not included with our basic services, so you will need to request them separately. If you're unsure whether or not your swimming pool needs these in-depth chemicals or conditioners, our pool cleaning professionals can give you professional advice.
Pool Algae Cleaning and Removal Service
When you're about to go for a swim, the last thing you want to see is algae inside your pool. Unfortunately, green algae, black algae, and other kinds of algae can quickly take over swimming pools in the Dallas area thanks to our hot and humid climate. Dealing with pool algae can be a big headache, but you can count on our experts to handle it for you. Liquidus Pool Services offers pool algae cleaning service for Dallas swimming pools. You can learn more about how we get rid of algae and keep it at bay on our Pool Algae Removal page.
If you need to set up weekly cleanings, a one-time cleaning, or algae cleaning for your swimming pool, please contact Liquidus Pool Services. Our pool experts offer high-quality pool cleaning services in the Dallas area. We can ensure that your swimming pool is as clean as can be, so you and your family can swim with peace of mind.