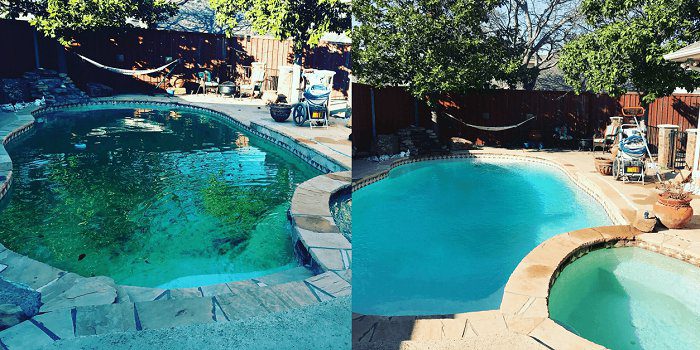 Swimming Pool Cleanings to Remove Algae
You don't want to see red, black, or green algae in your swimming pool. Algae can grow rapidly in pools, making it a health hazard for you and your family. The bad news is that dealing with an algae problem can be a big challenge, but it's important to do so promptly to prevent it from becoming an even worse problem. The good news is that you can rely on Liquidus Pool Services to handle this unpleasant job for you. Our certified pool professionals offer pool algae removal for homeowners throughout the Dallas Metroplex. We know how difficult it can be to successfully and thoroughly remove algae from pools, but we'll make sure it's done properly so that you and your family can get back to enjoying your pool.
Removing Pool Algae: From Green to Clean!
Algae can get into your pool through the air, but it needs the right conditions in order to thrive and create algae blooms. These conditions include having a pool with dirty or clogged filters, a high amount of phosphates, a high pH, and a low amount of chlorine. Green algae is the most common type seen in Dallas swimming pools, but you can also have red, black, or yellow algae.
At Liquidus Pool Services, we have a dependable process in place for getting rid of algae and restoring pools back to a clean and safe state. We use the right supplies and equipment to eliminate algae from pools. It may take a few visits for us to successfully remove the algae from your swimming pool – depending on how severe your algae problem is. When we're done, though, you'll have a swimming pool that's free of algae and completely safe for you and your family to enjoy.
Swimming Pool Algaecide & Cleaning
At Liquidus Pool Services in Dallas, we use products that completely destroys algae and helps prevent it from coming back. The combination of products we use includes algaecide treatment, high chlorine, PhosFree, and Muriatic Acid in the right dosage. We do more than pour these products into your pool in order to kill algae; our experts will also break down your pool filters and give them a thorough washing to ensure that they are completely clean and unclogged. Doing this helps make sure that algae won't be able to grow and thrive in your pool again any time soon.
With our swimming pool algaecide and pool cleaning services, you can expect to have a perfectly clean pool that is safe for you to swim in. Keep in mind that the sooner you have an algae problem dealt with, the lower the risk is of having it turn into a severe issue that requires several visits. Don't hesitate to get in touch with our certified pool professionals as soon as you notice algae starting to grow in your swimming pool.
Pool Draining & Power Wash Service in Dallas
Taking thorough steps to keep algae from coming back is important. In order to prevent your pool from developing the right conditions for algae growth again, we might recommend pool draining and power washing. These services help reduce the risk of algae growth by ensuring that all traces of it are gone. When you hire Liquidus Pool Services to drain and power wash your pool, our professionals will handle this job with expert care.
We'll get started by draining your pool entirely, then move on to using high-quality equipment to power wash it with a mixture of chlorine solution to help sanitize it. The power washing coupled with sanitizer is strong enough to remove algae and other debris from your pool's surfaces, leaving it as clean as can be. When we're done power washing your pool, we can fill it back up for you and ensure that you have the water has the right levels of chemicals in it. This helps prevent algae from being able to grow in your pool again.
Don't let algae ruin your summer fun; contact Liquidus Pool Services to eliminate the algae in your swimming pool. We have a team of certified pool professionals available with the right equipment for getting rid of algae. Give us a call to learn more about our pool algae removal services in the Dallas area.