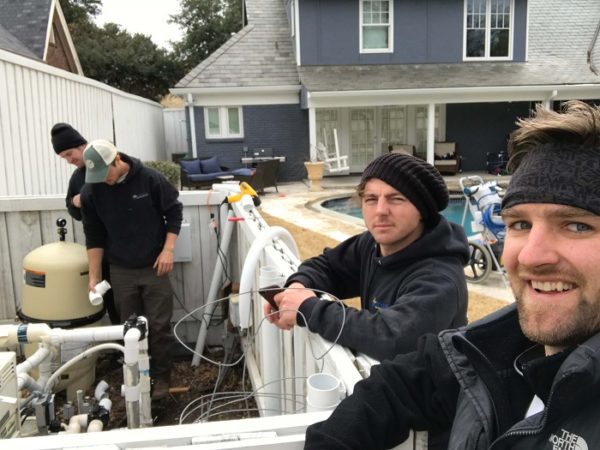 Swimming Pool Pump Repair
Your swimming pool's pump is responsible for making sure that water gets to the filter, which is where contaminants are removed. After going through the filter, clean water flows back to your pool. When your pool pump isn't functioning correctly, you can end up with a pool full of unsafe water, which can cause health issues and encourage the growth of algae and bacteria. At Liquidus Pool Services, we offer pool repairs for residential and commercial customers in the Dallas area. From minor issues to major problems with your pool pump, we're here to help get this piece of equipment back up and running.
Whether you have housing that's damaged or a motor that isn't working right, you can count on the professionals at Liquidus Pool Services to provide you with the service you need. Our experts know the ins and outs of pool pumps and can diagnose your pump's problem quickly. Once we know what the problem is, we'll get right to work on fixing your pool pump so that your pool water runs clear again. Don't let your pump problem keep you from using your pool this summer; let our experts know what kind of trouble you're having, and we'll get your pump up and running again quickly.
Replacement & Installation of Pool Pumps
At Liquidus Pool Services, we do our best to make sure that your pool pump lasts as long as possible. However, this equipment does wear out over time, and you may end up with a pump that can't be fixed. Whether you need a total pump replacement or a part replaced – such as the impeller or housing – we can handle it. Our professionals will remove your current pump or pump part and replace it with a high-quality one that will keep your pool cleaner for longer.
Determining the pump type that's right for your pool can be a challenge, but our experts will ensure that you get the correct one. Whether you end up with a single-speed, dual-speed, or variable speed pump, you can depend on our team to get it properly installed and operating correctly. At Liquidus Pool Services, we provide reliable replacement and installation of pool pumps for homeowners and commercial property owners in the Dallas area.
Pool Pump Motor Replacement & Repair
Your pool pump isn't much good without its motor. The motor inside it ensures that it's able to move water to your filter. When you have a pool pump motor that isn't working right, it's important to have it fixed or replaced as soon as possible. Liquidus Pool Services offers pool pump motor replacement and repair in and around the Dallas Metroplex for residential and commercial pool owners. With our help, you'll have a motor that continues to work properly so that your swimming pool will have clean water throughout the swimming season.
Motors for pool pumps are made to be durable, but they can develop problems at times. You may have a motor that won't start or one that shuts off after running for only a few minutes. You may also have a pool pump motor that's making an odd noise. No matter what kind of trouble you have with your pool pump, our team can find out what's wrong with it and repair or replace it. We'll do our best to repair your pump, but if it's severely damaged or worn out, we'll recommend having us replace it for you instead with a brand new one.
If you're having trouble with your pool pump, contact Liquidus Pool Services. Our licensed and certified pool professionals can inspect your pump, determine what the problem is, and get it fixed for you as soon as possible.
---