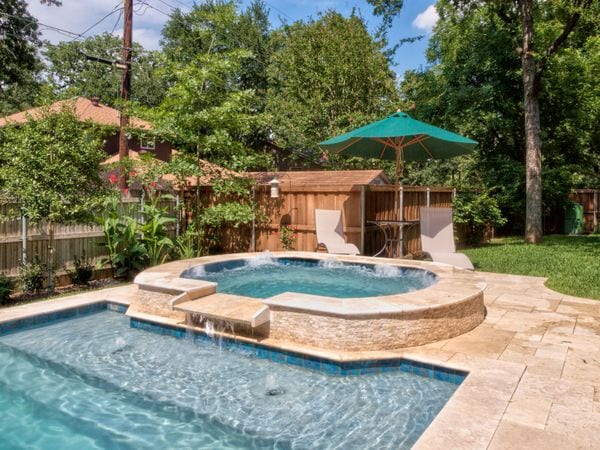 Contact Liquidus Pool Company in Colleyville, Texas
Liquidus Pool Services
Monday-Friday: 8:00 AM – 4:00 PM
Saturday: 9:00 AM – 1:00 PM
Sunday: Closed
Pool Maintenance and Repair in Colleyville, TX
Liquidus Pool Services is a professional pool maintenance and repair company that was built on the idea that pool owners should be able to enjoy their weekend. Our team of certified and licensed professionals handle a wide array of different swimming pool services, including but not limited to, restoring older pools, algae removal, and pool cleaning services. Since Liquidus Pool Services founding in 2017, we have worked diligently and reached out to our community, creating a strong reputation with our clients. We continue to honor our commitment to excellent customer service by practicing open and honest communication as well as only providing the best in pool equipment and pool maintenance practices.
Our team has proudly received the Home Advisor Elite Service Award as well as the Home Advisor Top Rated Award. Our continuing dedication to professionalism has helped us become a highly recognized name in the pool industry in a short amount of time. If you are looking for a team that has a keen eye for detail and makes sure to get it right the first time, there is no better team than Liquidus Pool Services.
Services We Provide to the City of Colleyville
Pool Remodeling Services
Whether your pool needs a remodel to give it a face-lift or you want to make the pool larger to accommodate a new spa area, Liquidus can help! Our team uses only high-quality materials and safe practices to ensure that the end product is both beautiful and built to last.
Outdoor Living
Liquidus Pool Services doesn't just stop with remodeling your pool, we also help transform your outdoor living area. From outdoor kitchens, fire pits, or even an outdoor living room, we have solutions for all of your needs.
Local Resources
City Ordinances – Ordinances for the City of Colleyville
Permit Information – Permitting information for the City of Colleyville
Liquidus Pool Services is proud to serve the people of Colleyville, Texas, and the surrounding areas, including Grapevine. Contact Liquidus Pool Services today and find out why more pool owners are turning to our team to help them take their weekend back!
Local Reviews
for Colleyville, TX
---