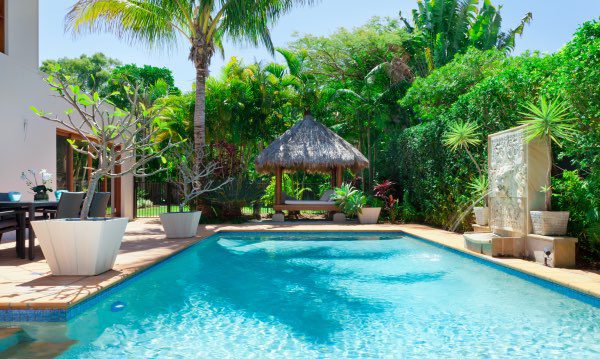 Tiki huts are extremely popular in backyard pool designs. They bring out a feeling of peace, relaxation, and joy, turning your backyard into a mini tropical paradise. While many people may believe that tiki huts and tiki decor originated from remote island culture, they actually originated right here in the United States. Here is a brief history of the beginnings of one of the most popular backyard living decors in the United States.
Humble Beginnings
Today tiki huts can be found in backyards throughout the United States but they originally started in the restaurant industry. In the 1950s, restaurants were looking for different themes to attract patrons and create a vibe that helped them escape from their daily lives. Restaurants and bars began to adopt building structures made out of bamboo and thatch roofing, creating a tropical paradise.
"Tiki" originated from the Polynesian mythical figure of Maori, who was also known as Tiki. This man was, according to Polynesian mythology, the first man created by the gods. The name and the origins were popular among Americans and quickly spread throughout the United States.
Tiki Huts Today
In the 1970s, tiki huts for restaurants and businesses began to fall out of favor with the Americans. Beginning in the 1990s, American pop culture called for a return for tiki huts, but this time for backyard decor. The tip of the hat to the 1950s has allowed tiki huts to make a huge resurgence and is now one of the most popular backyard themes to date.
What Makes Them So Popular?
Tiki huts are charming and help transport people away from the stress of their lives, allowing them to breathe easier as they relax by the pool. They're fairly easy to install and cost lower than other structures, such as a gazebo.
Defining Features of the Tiki Hut
The thatch roofs on tiki huts give them their tropical appearance, especially when the thatch sways in the wind like the leaves on a palm tree. Unlike other types of roofing, which remain stiff, thatch roofs move naturally in the breeze, reminding us that sometimes it's good to just go with the flow.
Types of Thatching Available for Tiki Huts
Thatching for tiki huts can come in different colors and styles, giving homeowners the best chance of investing in the kind that meets their needs. The three most recognizable thatch roofs are Mexican Rain Cape, Tahiti Thatch, and Thatch Reed Panels.
Mexican Rain Cape comes in a light blonde color. It is installed in uneven strands around the roofline, making it look more natural than man-made. The material itself comes from fronds of Mexican Palm Trees.
Tahiti Thatch is popular for its 98% water-resistant nature. Its thickness allows water to roll off of the roof and not soak through, which is often the came with Mexican Rain Cape. These fronds are reinforced with nylon rope for extra durability, making them handle inclement weather a bit better than the Mexican Rain Cape.
Thatch Reed Panels are a bit more expensive than the other two thatch materials on our list. Their refined classic look makes them extremely popular for homeowners. They are the most durable and waterproof material on the market. This is due to the flexible urethane strip, which is placed on top to keep it extra durable without giving up its natural look. They are made from natural African Reeds.
A Tropical Paradise for Your Backyard
Tiki huts will always have a place within the hearts of the American backyard scene. Your tropical paradise is just a phone call away! Liquidus Pool Solutions has been helping homeowners create their dream backyard and pool for years! Contact us today for more information on our services and to get your consultation today!