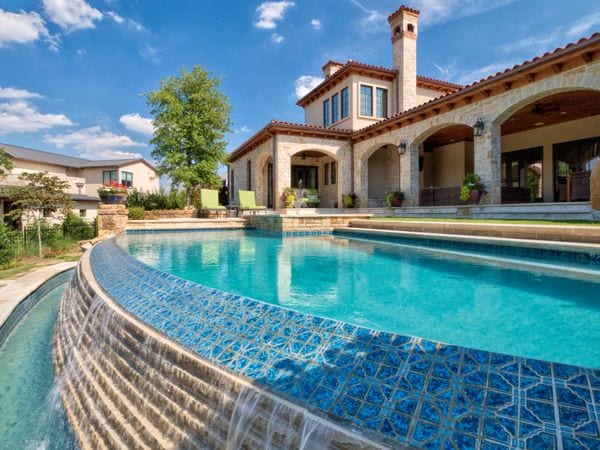 Pools are perfect for showing off your style. Owners can choose the pool shape, depth, and tile design to create the perfect backyard oasis. There are many different tile options for homeowners, and Liquidus Pool Service's incredible design team has put together a guide to show off our personal favorites. Take a look at these possibilities.
Glass Pool Tiles
Investing in glass pool tiles can create an absolutely stunning look. Glass pool tiles come in a wide variety of styles and colors, and their ability to catch and reflect light creates a stunning extra dimension effect to your pool.
Glass pool tiles can come in many shapes and sizes, but they generally range anywhere from 5/8 " to 2".
Where Should I Install My Glass Pool Tiles?
The best part about glass pool tiles is that they look great in any part of your pool. Whether they cover the floor, create a backsplash, or shimmer as an accent at the waterline, there is no wrong answer. Glass pool tiles are hardy and can be subjected to pool chemicals without fading or losing their beautiful sparkle.
For saltwater pools, glass tiles are the perfect option. Glass tiles can withstand the strain of saltwater and will not fade or age as quickly as natural stone tiles.
Porcelain Pool Tile Design Ideas
For a more natural but elegant option, porcelain pool tiles may be right for you. They come in a 6"x6" size and create a beautiful and cool aesthetic for your pool. With a wide variety of natural colors, the blue and green hues can be used to create a look of a natural body of water.
Where Can I Use My Porcelain Pool Tiles
Porcelain tiles look great as a backsplash or a decoration at the waterline. Just like glass tiles, they are strong enough to be used with saltwater pools. They are durable, and their natural tones look magnificent in your saltwater pool.
Stone and Glass Mosaic Pool Tile
If you are looking for the simple beauty that is sure to please, look no further than stone and mosaic pool tiles. The best part about these gorgeous tiles is that they can be fitted in any type of pool design. They feature stone tiles that are accented using gorgeous mosaic tiles, to bring color and a little pop to your pool.
These tiles come in pieces as small as ⅝" to a 1" x 1".
Where Can I Use My Stone and Glass Mosaic Pool Tile?
Stone and glass mosaic pool tiles are not recommended for saltwater pools, as the salt can cause the stone to wear and age pretty quickly. However, for chlorine pools, stone and glass mosaic tiles can be gorgeous around the waterline, or they can even be used to create an eye-catching water feature, such as a pool feature wall with a fountain. The sunlight catches the glass pieces, which are juxtaposed against the natural stone for a sparkling look.
Liquidus Has the Best Solutions for Both Salt and Freshwater Pools
While typically stone and glass mosaic tile is not recommended for saltwater pools, that is no problem with Liquidus Pool Services. Our design team works closely with the most durable pool tile and stone teams on the market, ensuring that our products and builds are strong enough to meet your pool's needs.
No matter which type of tile you choose for your pool, rest assured that your professional pool renovation and service team at Liquidus can help you install it. We are the leaders in creating stunning pools around the DFW area. Contact our team today for a consultation!