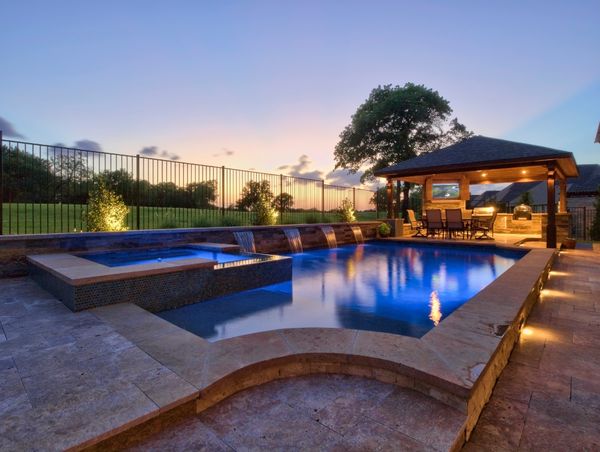 Pools are a gorgeous addition to any backyard. Some homeowners have always dreamed of owning their very own pools but may be reluctant to invest in a pool due to the nature of their backyard's shape or size. They may think it is too small or difficult to work around, or that current trees and decorations won't allow for space. As the trusted pool experts in the DFW area, Liquidus Pool Services can transform any backyard into a beautiful space with a perfectly shaped pool to meet your individual needs. Still not convinced? Here are just some of our favorite pool shape options and how they can work in your backyard!
Rectangular Pools
When most people think of a swimming pool, a rectangular pool is probably the first shape that's top of mind. Rectangular pools are fantastic for backyards that have limited space. They can run parallel to your fence line and be any width to fit in your space. This is the reason why many commercial businesses, such as apartment buildings and hotels, use rectangular pools.
Geometric Pools
If you don't like the plain look of a rectangular pool, no worries! Geometric pools may be more your style. With the ability to customize a geometric pool to fit any environment, this type of pool works well for backyards with unique needs or limited space. Instead of just being one large shape, geometric pools are built using a combination of different straight-edge shapes, such as squares, to ensure that you still get a uniform look while still being visibly pleasing.
Options are endless with a geometric pool. With jets and gorgeous pool lighting, they can be modeled to look like an ancient Roman bathhouse or an old Mayan ruin that has filled with water over the years. Decorate your pool with complementing accessories and furniture. However you choose to decorate your backyard, your geometric pool will be the highlight of your backyard.
Lazy L Pool
As the last pool option for our rectangular shapes, a Lazy L Pool is a great option for families who want to make the most out of their pool. The longer vertical side of a Lazy L Pool can be used for hosting fun pool games, such as pool volleyball or for practicing laps for exercise. If you would rather have a place to relax with your friends and family, then the wider horizontal section creates the perfect hangout spot. Add a nice poolside bar and you will have the most popular hangout spot in the neighborhood.
Oval Pools
Oval-shaped pools are fantastic for larger backyards and for families that typically have a lot of people visiting and using the pool. With some well-placed palm trees and tropical plants, a gorgeous tiki hut for relaxing, some rock formations, and an artificial waterfall, your backyard will feel like an oasis.
Kidney Pools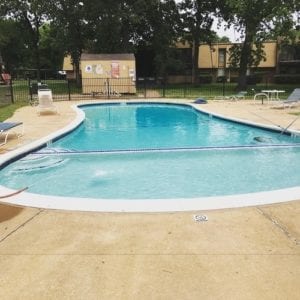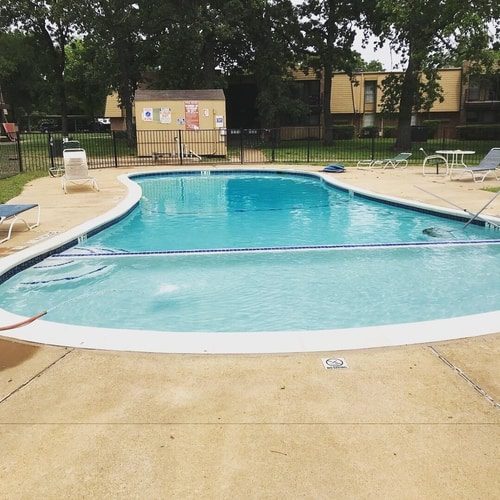 Kidney pools are a bit curvier than your typical oval shape pool. The rounded shape has both sides slightly curved inwards to resemble that of a bean (hence the name.) The best part of kidney pools is that they have the feel of a beautiful natural lake. The shape of the pool helps circulate water flow without having the water smack up against the edges of the pool as is common with rectangular pools. If you want to dress up your kidney pool, adding in artificial waterfalls can help accentuate the natural feel of your pool and create a calming atmosphere that you will never want to leave.
Figure 8 Pools
Figure 8 pools help eliminate the sharp edges that rectangular pools have while still feeling like there are two unique sections. The pool is wider on the ends and narrows in the middle, creating a perfect breaking point to set up a net for pool volleyball, create a shallower section for beginning swimmers, or to make a hangout spot with a poolside bar or fountain. Whatever you want to do, a figure 8 pool can help make it happen.
Freeform Pools
For the most customizable pool on the market, you will want to go with a freeform pool. Freeform pools can meet the needs of any backyard as the shape is based on the owner's preference. This type of pool generally has more curves than other pools, but those curves give it a natural body of water feel. Adding in different water features such as jets, fountains, or waterfalls can help make your free form pool stand out. The possibilities are endless with a freeform pool!
DFW's Leading Pool Experts
The world today is often filled with a feeling of "I can't," but when it comes to pools, Liquidus has an attitude of "You can!" We help homeowners build and maintain the perfect backyard environment with water as their main element. Whether you are looking for a pool remodeling service, pool maintenance, or want a backyard remodel, we have solutions that you will love! Contact our team today and find out more and more of our clients are taking their weekends back.