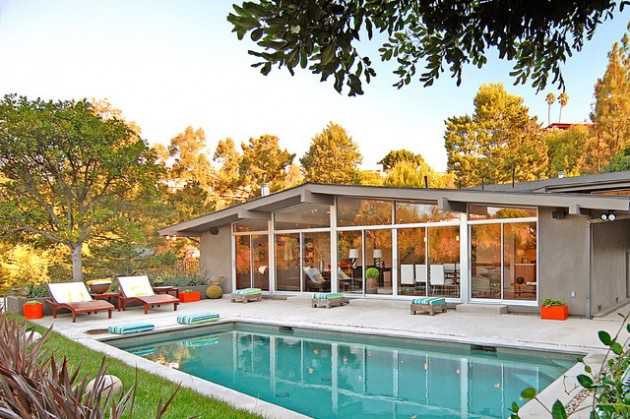 Mid-Century Modern design has withstood the test of time. Its origins date back to the Bauhaus art school founded in Weimar, Germany in 1919. Its popularity peaked during the postwar era of the 1950s. And now, nearly a century later, Mid-Century Modern design has found a sincere following yet again.
In this article, you'll discover the key elements of the Mid-Century Modern style and find practical suggestions for transforming your backyard. Whether you are remodeling your backyard or starting from scratch, here are three main elements of the Mid-Century Modern style that you can incorporate.
Elements of Mid-Century Modern Design
Function over Form – People who embrace the Mid-Century Modern are often looking for ways to live more comfortably. For them, functionality is all-important. They prefer to let form follow function and let the building materials speak for themselves, whether in the architecture, the interior decor, or the outdoor furniture.
Clean, uncluttered, sleek lines were prominent throughout the house and patio with a mix of organic and geometric forms taking the forefront. In Mid-Century Modern, less is more.
Modern Materials  – The use of different, and sometimes contrasting materials is a hallmark of the Mid-Century Modern design. During the postwar era in America, new technology was being introduced into the mainstream. Architects and builders eagerly started exploring the uses of non-traditional materials in architecture such as aluminum, glass, and plastic.
At the same time, these designers kept using and even showcasing more traditional building elements, namely wood, and stone. The result was a combination of new and old, modern, and traditional all tied together by the simplicity of the material selected.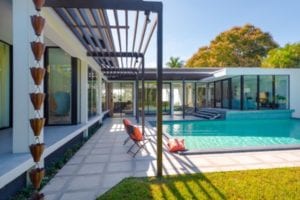 Merging Outdoors & Indoors – Of all the characteristics of the Mid-Century Modern style, this one is the most intriguing to me. As an attempt to slow down the pace of life, relax, and more fully enjoy nature, MCM houses were intentionally built with the outdoors in mind. Low pitched roof lines blended in with the natural horizon.
Skylights and corner windows provided natural light to the house's interior and invited the mind to wander outdoors. Sliding glass doors made it easy and inviting to step outside and enjoy the backyard. The goal was a seamless transition from indoors to outdoors, from house to poolside.
Bringing Mid-Century Modern Home
To bring the Mid-Century Modern design to your backyard is to invite a mood of simplicity and relaxation. Here are some easy ways to bring the ideas from this article to your backyard pool and patio.
Stone Fireplace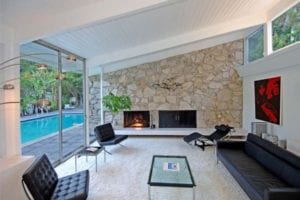 A hallmark of Mid-Century Modern design was the stone fireplace built-in to a wall of the house. Install an outdoor fireplace with natural stone finishing and your patio can be used all year round.
Sliding Patio Doors
Nothing makes transitioning to or from your pool easier than a sliding glass door. The more glass there is between your indoor space and your outdoor patio the more complete the MCM style will be.
Lawn furniture
Search for new MCM style yard furniture or shop second hand if you want to find vintage or restored pieces. Be sure to find some classic MCM colors to add a pop of color to your poolside.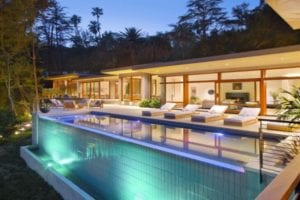 While the colors and textures associated with the Mid-Century Modern design can be bold, they are used sparingly and in coordination with a simple, streamlined design.  Remember, the purpose of the Mid-Century Modern design is to slow down the pace of life and enjoy the combination of nature and convenience.
Howdy Dallas, Have you been dreaming about building a new, Mid-Century Modern style pool? Maybe you own an authentically MCM pool but need to make some 21st-century updates. Not sure what you're looking for? Browse our gallery or call us for help. We can help turn your Mid-Century Modern idea into reality.
Enjoy your weekend!