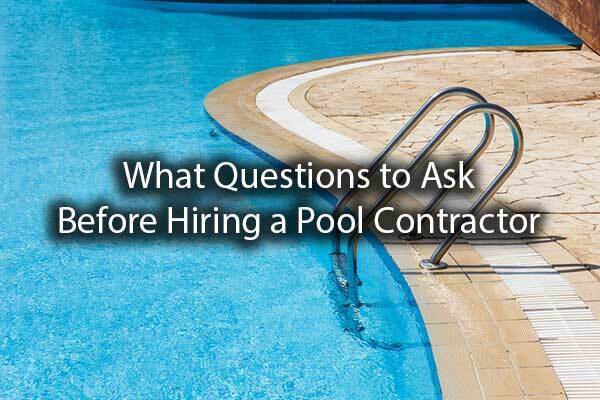 A pool can be an exciting addition to your home that creates a lifetime of memories, laughs, and a place to escape to for some much-needed rest and relaxation. However, planning for a pool is a huge responsibility as it is a big investment. From choosing the right style and shape to deciding what additional features to include, you will want a trusted pool contractor who can help bring your dream pool to life and help maintain it. Not every company can provide you and your family with what you are looking for or have the experience needed to bring your dream pool to life. Before you sign with a pool contractor, you will want to ask these important questions:
Do They Have References or Reviews?
Reputable companies will not hide what their clientele thinks about them. Always ask about references to follow up with, to see if the company truly holds their word about who they are and their ability. If a company refuses to give you references or they seem insulted by the question, it is probably best to look for a different pool contractor.
You can also lookup company reviews online. Remember, customer reviews and references will help you get a better understanding of the company and how they treat their clientele. Also, make sure to look up their social media pages. You can get a clearer view of the company's work and values from these pages.
Is the Company Insured?
Always ask your pool contractor if they are insured. If they do not have insurance and an accident happens, it may be you footing the bill. If they do have insurance, ask for a copy of their certificate and keep it for your records. A reputable pool professional will not withhold this information from you.
How Long Will It Take Them to Complete the Job?
Make sure you understand the timeline of the proposed pool build. Not only will this help you plan but it will ensure that the pool builder is holding up their part of the commitment. The timeline should be included in the final project.
However, it is important to remember that there are unforeseeable complications that could delay a pool build, such as inclimate weather. Your pool builder should be able to keep you in the loop of such delays and give you an altered timeline if needed.
What's Included in My Contract?
Make sure you read through the proposed contract carefully before signing. The contract will show you what is included in your pool build and what isn't. The contract should have the following:
Description of the services
Materials and equipment
The project timeline
An outline of their plan in case of inclement weather
The terms of payment
If you ever have concerns or questions about your contract, always speak to your pool builder and make sure these issues are resolved before you sign.
Does Your Pool Contractor Backup Their Work With a Warranty?
Most contractors will have some sort of warranty on their pool but make sure you ask exactly what kind of warranty they provide. There is a huge difference between a 15-year warranty on the plaster of your pool and a lifetime warranty on the structure. You will also want to know if your pool's features, such as a pool pump or heater, are covered by a warranty as well.
Ready to Build Your Dream Pool?
The team at Liquidus Pool Services has been helping people build their dream paradise since 2017. No matter what style of pool you are going for, our team offers gorgeous solutions, water features, and designs to help make your pool one-of-a-kind. We also offer pool maintenance and repair services to help keep your pool running strong throughout its lifetime. Contact our team today for more information or to schedule an appointment with our pool design team!