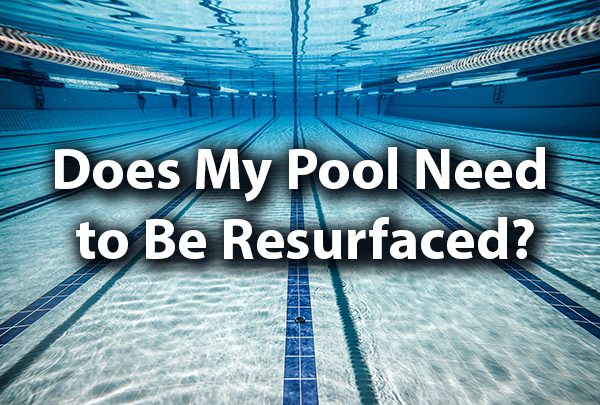 Summer is time for fun in the sun, floating in your cool pool, and hanging out with family and friends. However, when your pool begins to look a bit rundown, you begin to invite people over less often. It might be time to resurface your pool.
Plaster on pools typically lasts anywhere from 7 to 10 years. Then, you may start to notice that the signs of aging are setting in on your outdoor paradise. What are these signs, you may be asking yourself? Your trusted team of pool care professionals at Liquidus Pool Services has the answers! Here are the tell-tale signs that a pool needs resurfaced.
Rough Texture
It's uncomfortable to feel roughness under your feet when you're swimming in the pool. In some cases, this rough bottom on the floor can scratch up your feet. The rough texture on your pool's floor occurs as the pool ages, due to the wear and tear over time and from imbalanced pH levels.
Liquidus Insight:
Just got your pool resurfaced but still feel rough patches at the bottom? This is because your pool's resurfacing job was done incorrectly. It is extremely important to ensure that you are getting a reputable pool company, such as Liquidus, to resurface your pool. Resurfacing is a tough job and can be pricey. Make sure the job is done right the first time; trust the reputation of Liquidus.
Peeling Plaster
If you notice plaster peeling away near the steps or floor of your pool, this is a strong indication that a resurfacing job is due. Peeling plaster is caused by low calcium levels in your pool. This naturally happens over time and the only way to get it fixed is with a resurfacing job.
Spiderweb Cracks
When cracking, spiderweb formations begin to show up on the walls and flooring of your pool, and you know you have a potential problem. These cracks are caused by sudden temperature changes (the plaster and surface of your pool expand and contract with the hot and cold weather. If you do not address these cracks, over time they can become larger and leave your pool vulnerable to developing algae. Replastering your pool is a safe and sure option to ensure that these cracks are gone for good.
Structural Cracks
While spiderweb cracking can sometimes be hard to spot because the cracks are so small, larger structural cracks are hard to miss. These cracks not only occur on the plaster but can sink to the pool's structure, leaving you with a larger problem than cosmetics. If not handled immediately, your pool can suffer major issues, such as algae growing in the cracks, leaks, and damage that cannot be repaired with a simple replastering job. Cracks, or noticeable leaking, should be addressed immediately.
Professional Pool Resurfacing from Liquidus Pool Services
When your pool shows signs of aging, don't lose hope. Your expert pool team at Liquidus Pool Services can help turn back the hands of time and make your pool look as good as new! Contact our team today for all of your pool needs or to receive an estimate on your pool resurfacing job today!