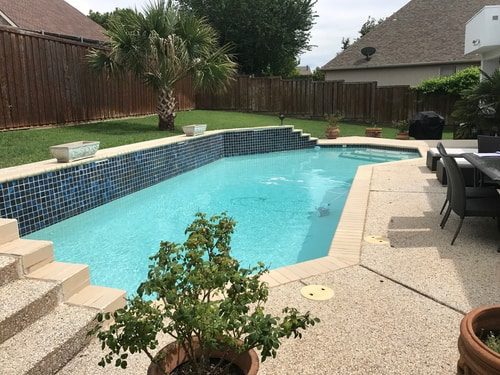 Best Pool Company in Irving
How did you spend your last weekend? If you're a homeowner residing in Irving, Texas, we hope you spent it relaxing by the pool — and not desperately trying to keep your pool clean. You work hard during the week, but when the weekend arrives, you should be able to kick back in your personal backyard oasis. At Liquidus Pool Services, we're here to help you take back your weekend. To this end, we offer a range of residential and commercial services, including regular maintenance and repair work.
Pool Maintenance and Repair in Irving
You can count on Liquidus Pool Services for assistance with a variety of maintenance and repair services. If you're looking to test the waters (so to speak), feel free to call us to learn more about our one-time pool cleaning services. Going away on vacation? We will carefully maintain your pool while you're away and provide regular updates so you can return to a perfectly clean pool.
While we're happy to provide one-time or vacation services, we strongly encourage weekly maintenance. Your pool will be cleaner, safer, and an overall more pleasant place to spend time if you receive regular care from a team of knowledgeable technicians. Each week, we provide a variety of services designed to keep your pool in excellent shape. These include:
Chemical tests and balancing
Equipment checks
Pressure checks
Brushing
Skimming
Emptying of skimmer baskets
Vacuuming
All team members are licensed and certified. You can take solace in knowing that your pool technician is knowledgeable and equipped with the skills it takes to keep your pool in great shape.
Liquidus Pool Services' Commitment to Great Customer Service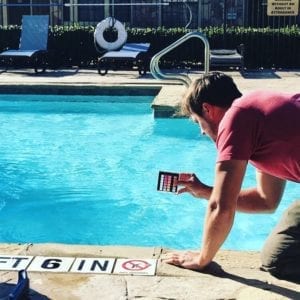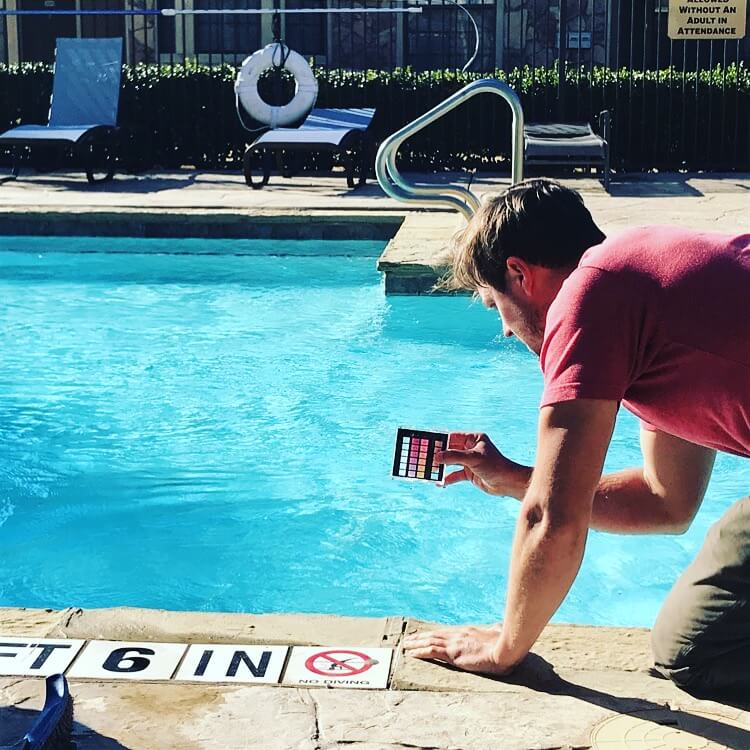 Good friends Adam Whitcomb and Garrett Howard are passionate about leisure and recreation. They know how hard Irving residents work — and they know how quickly a relaxing weekend can be destroyed by pool concerns. They're determined to help Irving residents such as yourself make the most of every minute away from the pressures of work.
Great customer service lies at the heart of every interaction with Liquidus Pool Services. The moment you call, you'll be treated with respect and compassion. We get how annoying it is to deal with swimming pool problems — and we're here to shoulder that burden so you can return to your regularly scheduled relaxation.
Since opening in 2017, Liquidus Pool Services has consistently received praise from homeowners in Irving and surrounding communities. Many claim that prior to working with Liquidus, they struggled to find a pool maintenance company they could trust. We'll work hard to ensure that you're just as happy with your pool as our many satisfied reviewers.
Living in Irving
Irving is a wonderful community to call home. It's an in-demand area, and it's growing quickly. As of 2010, the United States Census Bureau highlighted a population of 216,285. By July 2017, the population of Irving had reached 240,373. Despite this impressive growth, Irving never feels impersonal. Many residents work right in town and enjoy a short commute. Several of them work in the Las Colinas area, where multiple tech firms are based.
Irving has a thriving arts community, which is always on display at the Irving Arts Center. From outdoor exhibitions to theater and music productions, the local arts center provides something for everyone. Williams Square is home to a popular bronze sculpture known as the Mustangs of Las Colinas. This Robert Glen masterpiece depicts nine horses galloping through water. Las Colinas also boasts a gorgeous waterfront trail, which makes for the perfect date night activity before or after checking out one of several nearby restaurants.
History buffs love to hang out at the Ruth Paine House Museum, which offers intriguing insights into the tragic assassination of John F. Kennedy. The restored 1960s home housed the president's killer the night before the shooting. History also comes alive within the Irving Public Library, which houses the city's extensive archives. Set aside a full afternoon to dig through the city's fascinating past.
Every June, the annual Canal Fest allows residents and visitors to travel the world in just one day. The unique festival celebrates a wide array of cultures through music, dance, and, of course, food. Other special events include the Cajun Crawfest and the Taste of Irving at Cimarron Park.
Rain or shine, Irving is a wonderful place to spend time. After a busy day, however, you'll be eager to return home to your swimming pool. Liquidus Pool Services will keep your personal oasis in great shape so it's always an inviting place for you and your loved ones. Reach out today to learn more or to get started with our elite pool services in Irvine, TX and the surrounding cities, including Farmers Branch, Dallas, and University Park.
---
Local Reviews
for Irving, TX
Liquidus Pool Services, LLC
Rated
5.0
out of 5 stars based on
1
customer reviews
---
Total Satisfaction
Al

-

Irving

,

TX

75061



Review of
Liquidus Pool Services, LLC
No hassle appointment request. They showed up on time. Did and excellent job and provided friendly service. I'm so glad I found these guys.
---
Response from Liquidus Pool Services, LLC:

Al, thank you for your feedback! We are happy you found us too! We appreciate your business and look forward to helping you in the future! All the best, Josh
---
Natalie L.
Working on a Jandy stealth pump
Near

Paluxy Dr,

Irving

,

TX

75039
Natalie L.
Working on a Jandy PB4SQ booster pump
Near

I-635,

Irving

,

TX

75063
Natalie L.
Working on an Intelliflo3 filter pump
Near

Windy Hollow Dr,

Irving

,

TX

75063
Zach B.
Pool tech Call out, pool circulation issues. Pentair intelliflo systems
Near

Acapulco St,

Irving

,

TX

75062
Preston C.
Estimating a light repair. We also do estimates! Are you looking for renovation, repairs, or service? We'll let you know what to expect before you start paying! Give us a call today to get set up for an estimate. TICL#1012
Near

Pedernales Trail,

Irving

,

TX

75063