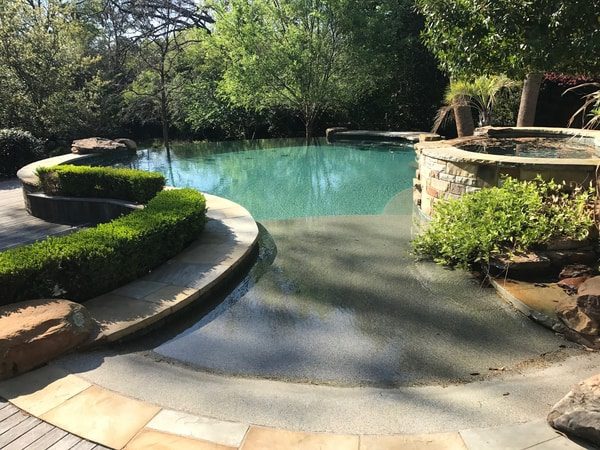 Best Pool Company in Farmers Branch
Nothing beats a weekend spent by your swimming pool in Farmers Branch. Your pool is your place of respite. It's where you build stronger relationships with your loved ones. It's the perfect place to make memories.
Imagine how many more memories you could make if you were actually able to enjoy your pool instead of constantly worrying about cleaning it. Fortunately, you no longer have to deal with the hassle of maintenance on your own; Liquidus Pool Services is here to take this task off your hands. Since early 2017, our team of close friends and certified technicians have provided exceptional service to residents in Farmers Branch, and we plan on continuing this tradition of excellence.
Pool Maintenance and Repair in Farmers Branch
If you're determined to keep your pool in tip-top shape, you're a prime candidate for Liquidus' weekly maintenance and cleaning services. The technicians at Liquidus Pool Services are happy to provide your pool with the exceptional care it requires each and every week. Our weekly routine includes the following:
Vacuuming
Skimming
Brushing
Chemical balancing
Chemical tests
Pressure checks
Equipment checks
Not all Liquidus customers desire weekly pool service. For these customers, we offer one-time cleaning services or special packages for when you're away on vacation.
If your pool is not currently in working order, we hope you'll contact us promptly. We offer numerous pool repair services so you can jump back in ASAP.
Liquidus Pool Services' Commitment to Great Customer Service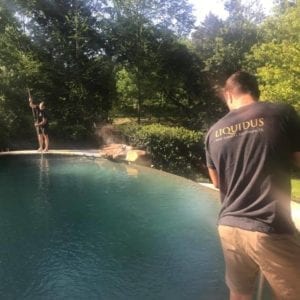 When you work with Liquidus Pool Services, you can count on our remarkable team for personalized, kindhearted service. You'll never doubt that the Liquidus Pool Services team has your best interests at heart. It all begins with a phone call. As you discuss your pool-based concerns, you'll be pleasantly surprised by the friendly service you receive. Later, we'll keep you in the loop by sending regular updates about the state of your pool. There should never be any question as to whether your pool is clean or well-maintained, even when you're away on vacation. Our feedback is detailed, so you're never left wondering.
Despite opening in early 2017, our business already boasts multiple five-star reviews. We're proud not only of the five-star ratings but also of the compliments that accompany them. One customer, for example, referred to the group of friends that makes up Liquidus Pool Services as "genuine gentlemen."
Our efforts are recognized not only through Yelp, Google, and Facebook reviews, but also with two awards: the Home Advisor Elite Service Award and the Home Advisor Top Rated award. We're proud to have received these awards, but ultimately, there's more to our work than courting accolades. We're truly passionate about what we do, and we think it'll show as soon as you get in touch with us.
Living in Farmers Branch
Farmers Branch offers the convenience of an inner-ring Metroplex suburb, but also, as its name suggests, a more relaxed way of life. With a population just over 28,000 as of the 2010 United States Census, the community remains smaller than a lot of suburbs near Dallas and Fort Worth. Many residents view this as a distinctive benefit; in such a vast metropolitan area, many in Farmers Branch feel that they've carved out a place where they know their neighbors and feel welcome.
While Farmers Branch residents enjoy easy access to the best of the big city, there's plenty to do right in town. The Farmers Branch Historical Park is a top destination for locals and visitors alike. The park is home to several historic structures, including the 1937 Dodson House (which was home to the city's first mayor), the 1856 Gilbert House (Dallas County's oldest stone house), and the distinctive 1877 Depot. Stop by to take in a vintage Farmers Branch Mustangs baseball game modeled after 1860s recreation.
Athletic types also appreciate living near the Dr. Pepper StarCenter, which is affiliated with the Dallas Stars. The facility offers skating and hockey academies, as well as open skate programs and even space for special events such as birthday parties.
Farmers Branch residents appreciate and support the arts, as evidenced by the success of the local Firehouse Theatre. Housed in a renovated fire station, the Firehouse Theatre puts on a variety of productions throughout the year, including several family-friendly musicals.
From theater to athletics, there is always something fun to see or exciting to do in Farmers Branch. It's an amazing place to call home — and at Liquidus Pool Services, we're proud to be able to serve this community. Contact us today to learn more about our approach to pool maintenance and repair for Farmers Branch and her neighboring cities, including Carrolton, Addison, and Richardson.
---
Local Reviews
for Farmers Branch, TX
---