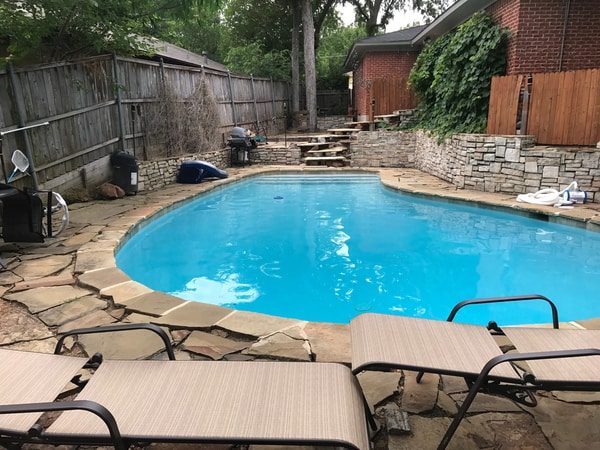 Best Pool Company in Carrollton
As a Carrollton resident, your pool is your haven. This is where you go to escape the heat during a hot Texas summer day. It's where you relax when you need a break from the stresses of daily life. However, it can't serve these purposes when it's not working. Thankfully, you'll never have to deal with such a problem for long when you have Liquidus Pool Services on your side.
A highly trusted pool maintenance and repair company serving the Dallas-Fort Worth Metroplex, Liquidus Pool Services will help your pool reach its full potential. Whether you're too busy to take care of your pool on your own or simply need a little help while you're away on vacation, you can count on Liquidus Pool Services to keep your pool in amazing condition.
Pool Maintenance and Repair in Carrollton
The Liquidus Pool Services team offers a wide variety of maintenance and repair services. Many clients seek our assistance with weekly pool cleanings. Regular attention from our technicians keeps your pool in pristine condition. Weekly service includes skimming, brushing, vacuuming, chemical tests, pressure checks, and more. After each week's services are completed, Liquidus sends a thorough email report detailing all chemicals used and any follow-up notes for technicians.
If your pool malfunctions, we should be your go-to source for support. We offer several repair services, including pump, filter, light, and heater repairs. We can also help you deal with algae problems.
While much of our work with pool maintenance and repair involves local homeowners, we are also happy to work with Carrollton business owners. Our commercial services are highly regarded throughout the Metroplex area.
Liquidus Pool Services' Commitment to Great Customer Service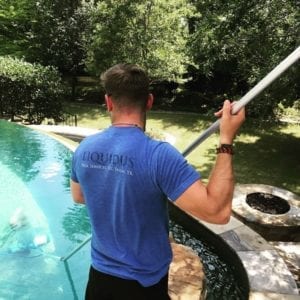 When you work with Liquidus Pool Services, you can rest assured knowing that one of the Carrollton area's most reputable companies is prepared to handle your pool concerns. Made up of a group of good friends, the Liquidus Pool Services team is passionate about pool-based recreation in and around Carrollton. The experts at Liquidus Pool Services will never make light of your concerns – they know exactly how essential it is to maintain your own personal pool oasis.
We prioritize customer services at Liquidus, but don't just take it from us; just a quick glance at our stellar reviews and you'll realize why our customers return to us again and again for maintenance services. We've only been around since 2017, but our customers are already eager to spread the word.
Living in Carrollton
As of the United States 2010 Census, Carrollton was home to 119,097 residents. By 2016, however, that number had expanded to 133,168. Business is booming, and residents are flocking to Carrollton in hopes of scoring a job at one of the city's many headquarters. Carrollton is conveniently located near Dallas and Fort Worth, so it's home to tens of thousands of commuters.
While all Carrollton neighborhoods are charming in their own way, there is something truly special about Downtown Carrollton. This historic district is the perfect hang-out for residents of all ages. Regular events such as outdoor movies and concerts bring the community together.
Recreation is a clear priority in Carrollton, which boasts several gorgeous parks. Top outdoor hangouts include Mary Heads Carter Park and Timber Creek Park. Golf enthusiasts adore this city; several spend their time at the Indian Creek Golf Club or the Maridoe Golf Club.
With so much to do and see in and around Carrollton, you'd expect residents to rarely spend time at home. The city boasts some truly remarkable real estate, however, and residents love to hang out in their expansive backyards. Pool ownership is a priority for many people who simply want somewhere to relax after a long week at work. At Liquidus Pool Services, we understand the important role swimming pools play in our customers' lives. We want to make life in Carrollton the best it can be — and that means keeping local pools in exceptional shape. Contact us today to learn more about our services and commitment to your satisfaction. We proudly serve Carrolton and her neighboring cities, including Addison and Farmers Branch.
---
Local Reviews
for Carrollton, TX
---
Natalie L.
Working on Jandy spa light
Near

Brighton Dr,

Carrollton

,

TX

75007
Natalie L.
Working on a pentair intellicenter equipment panel
Near

Wichita Dr,

Carrollton

,

TX

75010
Natalie L.
Working on a Polaris 280
Near

Hutton Dr,

Carrollton

,

TX

75006