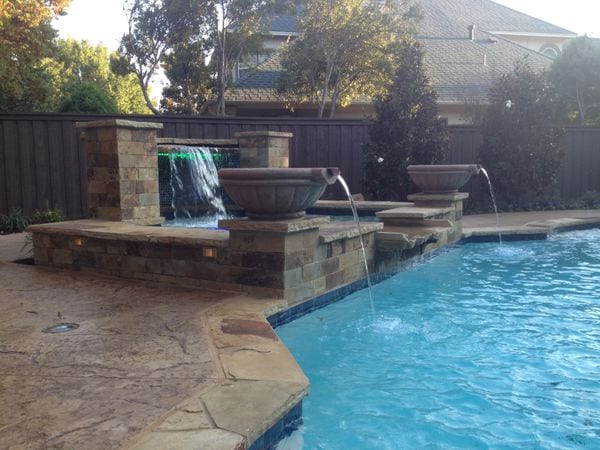 Contact Liquidus Pool Services in The Colony, Texas
Liquidus Pool Services
Monday-Friday: 8:00 AM – 4:00 PM
Saturday: 9:00 AM – 1:00 PM
Sunday: Closed
Pool Maintenance and Repair in The Colony, Texas
Liquidus Pool Services specializes in pool maintenance and repair, as well as backyard remodeling where water is the main element. Our team is created of certified and licensed professionals who have a passion for helping individuals obtain their perfect outdoor environment. We handle a wide variety of different swimming pools needs, including but not limited to, pool restoration and pool equipment replacement. Since its founding in 2017, Liquidus has established a strong reputation within the community, making them one of the leading pool service companies in the DFW metroplex. If you are looking for top-quality pool services, then make sure you contact the dedicated team at Liquidus Pool Services!
We have received the Home Advisor Elite Service Award and the Home Advisor Top Rated Award. If you are looking for high-quality services, contact the dedicated team at Liquidus Pool Services.
Services We Provide to The Colony
Pool Cleaning Services
For a healthy pool environment, you must keep your pool clean. At Liquidus Pool Services, we understand that you may not always have the time to commit to cleaning your pool. This is why we offer pool cleaning services to ensure that our clients have comfortable and safe pools!
Swimming Pool Plumbing
Your pool's plumbing is extremely important to help regulate your pool's water flow. This allows the filtration system to work, ensure that your pool doesn't overflow, and that the environment remains clean. When your pool's plumbing runs into issues, such as a leak, do not fear! Your pool specialists at Liquidus are here to get your pool's plumbing back in working order and to ensure that you enjoy the best your pool has to offer.
Outdoor Lighting
Liquidus does so much more than just pool services. We also offer backyard remodeling with water as the main element. When you are creating the perfect outdoor atmosphere, do not neglect your outdoor lighting! Our team can help you create a safe and inviting environment so that you can enjoy your friends and family's company well into the night!
Liquidus Pool Services is proud to serve the people of The Colony, Texas, and the surrounding cities, including Frisco, Richardson, and Plano. Contact our team today to find out why more and more people are turning to the team at Liquidus for all of their pool needs.
Local Reviews
for The Colony, TX