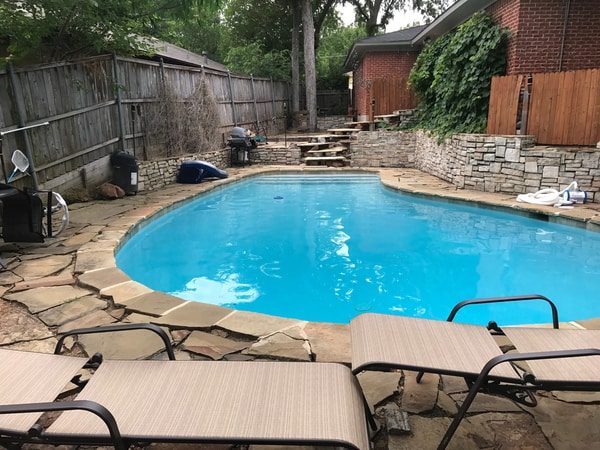 Best Pool Company in Frisco
When the weekend arrives, it's time to hit the pool. But what if your pool's water is currently cloudy or your pump is in dire need of repair? The sooner you seek assistance from a trusted pool company such as Liquidus Pool Services, the sooner you can get back to your regularly scheduled weekend activities.
At Liquidus Pool Services, we want to help you take your weekend back. We perform the cleaning and maintenance tasks that you hesitate to complete on your own. We're passionate about recreation, as you'll quickly learn when you work with our certified technicians.
Pool Maintenance and Repair in Frisco
At Liquidus Pool Services, we provide a range of cleaning and maintenance services designed to keep your pool looking pristine and operating reliably. We believe that regular maintenance is key, so we provide weekly services for many Frisco homeowners. Our pool technicians are unfailingly thorough during these cleaning services; they vacuum, skim, and complete other tasks that you've long dreaded. They also perform chemical, equipment, and pressure checks to ensure that your pool is 100 percent safe.
If your pool has seen better days, we're here to return it to its former glory. We provide filter cleaning and power wash services to deal with obnoxious algae blooms. We also repair pumps, heaters, filters, lights, and GFCI breakers.
Liquidus Pool Services' Commitment to Great Customer Service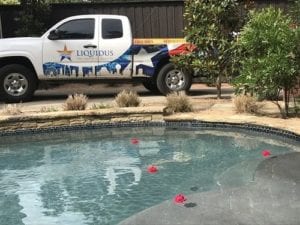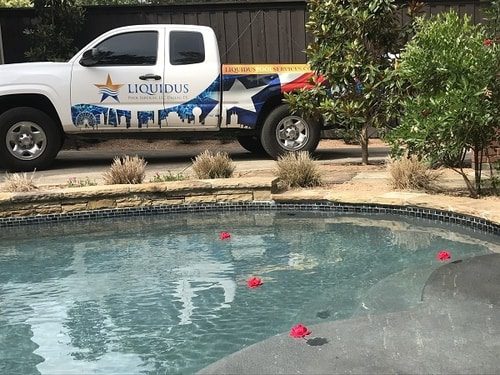 Liquidus Pool Services is made up of a group of close friends who are passionate about the Dallas Metroplex region — and passionate about pool-based recreation. Our team members know that a functional pool can make a huge difference in your daily life. Your pool should be your personal escape from your busy life in Frisco. At Liquidus Pool Services, we are determined to provide that escape through regular maintenance, pool repairs, and exceptional customer service.
Our team at Liquidus formed in early 2017, but we've already received rave reviews from a variety of customers. Our high ratings on Yelp, Google, and Facebook say it all. One customer explains, "I have not been anything but satisfied" while working with Liquidus Pool Services. We're always eager to receive positive feedback from our customers, so we go out of our way to ensure that each experience with our company is perfect.
We've received multiple distinctions from Home Advisor, including the Elite Service award and the Top Rated award. Ultimately, however, it's not about the accolades; it's about providing a quality service for the amazing residents of Frisco. If we can put a smile on our customers' faces, we'll know that we've succeeded.
Living in Frisco
Frisco has seen considerable growth in the last few decades. As of 2018, the city had an estimated population of 174,799. Much of its population growth can be attributed to residents' desire for convenient access to both Dallas and Fort Worth, along with excellent amenities in their own community.
Recreation is clearly a big deal in Frisco, which is home to Toyota Stadium. The 20,500-seat facility is where residents from Frisco and surrounding communities come to watch exciting FC Dallas games, as well as concerts and a variety of other events.
Multiple museums keep residents of all ages aware of Frisco's fascinating history. These include the Museum of the American Railroad, the Frisco Heritage Museum, and even the National Videogame Museum.
Frisco is an amazing place to have a pet, and not just because of the big backyards. Dog lovers can find plenty of places to walk and play with their canine friends. Perhaps best of all: the Ruff Range Dog Park, where four-legged companions can ditch the leash and play with other dogs.
Life in Frisco is good, but it's even better when you're able to retreat to your pristine swimming pool. With Liquidus Pool Services on your side, you can take comfort in knowing that a true oasis awaits in your own backyard. We're proud to service Frisco residents such as yourself, as well as homeowners residing throughout the Dallas-Forth Worth Metroplex. Contact us today for more information about pool maintenance in Frisco and the surrounding areas, including McKinney and Plano.
---
Local Reviews
for Frisco, TX
Liquidus Pool Services, LLC
Rated
5.0
out of 5 stars based on
1
customer reviews
---
Great service
Vilma

-

Frisco

,

TX

75035



Review of
Liquidus Pool Services, LLC
Rain or shine they get the job done!
---
Natalie L.
Working on a pentair master temp heater
Near

Van Horn Ln,

Frisco

,

TX

75034
Kyle H.
Weekly residential pool cleaning. Skimmed, vacuumed, brushed, emptied baskets, balanced chemicals. Inspected equipment. Pentair IntelliFlo Variable Speed Pump. Polaris Booster Pump. Pentair FNSP 60 Filter.
Near

Longmont Ct,

Frisco

,

TX

75035
Michael M.
Weekly residential service on a medium-sized pool. Full clean & chemical detail for a refreshingly cool swim. Additionally inspecting equipment, including the AquaLink Digital Control Panel (wireless & convenient!), to ensure everything is working perfectly.
Near

Impala Trail,

Frisco

,

TX

75034
Michael M.
Residential service on a beautiful pool. Includes cleaning, chemical balance & adjustment, as well as pool inspection for any issues to guarantee ice-blue water. Additionally inspecting equipment, including Jandy Variable Speed Pump (cost saving!), to ensure everything is in working order.
Near

Lebanon Rd,

Frisco

,

TX

75034
Michael M.
Weekly service on a residential pool. Full clean and chemical detail for crystal-clear water. Courtesy inspection of equipment, including the Pentair Quad-DE Filter (super efficient!), to ensure everything is running optimally.
Near

Quail Hollow Rd,

Frisco

,

TX

75034
Michael M.
Weekly chemical service on a residential account. Full-battery test includes chlorine, pH, total alkalinity, calcium hardness, phosphates, and CYA. Additionally testing salt if applicable. Balancing chemicals where needed to ensure perfect water for a perfect swim!
Near

Lebanon Rd,

Frisco

,

TX

75034