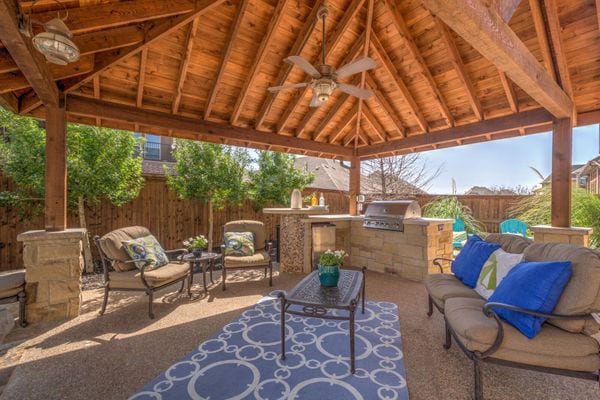 Function. Capacity. Aesthetic. There are a lot of things to consider when designing your ideal outdoor living space. For one, the amount of space you have in your backyard could dictate your direction. If you have a cozier space, you might try to design a versatile environment that can become anything you need. If you have a little more space to spread out, you might decide to have different areas permanently devoted to particular needs.
Another consideration is what exactly you want to use your space for. Recreational spaces will be different from spaces focused on relaxation or food. When you consider the different budgets, climates, and desired atmospheres that you have to take into account, too, there are truly infinite ways to set up your outdoor living space—but only one will be the best place for you. Here's how to design an outdoor living space that will best empower you to take your weekend back!
Creating an Outdoor Living Room for Relaxation and Togetherness
If you've been looking for a space to enjoy family or friends, or to just sit and read, consider an outdoor living room. An outdoor fireplace would keep the area cozy and provide warmth on chilly nights. The flickering flames also create the perfect ambiance for curling up with a book and a hot drink. Choosing comfortable but hardy flooring will give you the freedom to dress up your outdoor living room however you'd like. Whether it's colored concrete or stone flooring, having the perfect patio material can bring in beautiful rich tones that will make your outdoor living room pop.
Design elements are not the only part of creating the perfect outdoor living room; the other furniture you include can also make this space a haven. For example, you can find shelter from bright sun rays with an awning or pergola. They can keep your outdoor living room nice and cool while also protecting you, your family, and your guests from the sun's heat. Additionally, a large flat screen TV will make your outdoor living room the perfect place to view movies or sports while enjoying Mother Nature—truly the best of both worlds.
Dive Into Your Very Own Water Oasis
Outdoor swimming pools are the perfect way to beat the Texas heat, and Liquidus Pools can bring your dream pool to life. First, it's important to know the types of pools that are available to you:
Creating your dream pool doesn't stop with simply picking your pool and its features. You also need to create the perfect poolside area. Pool patios can come in a wide variety of designs and materials. Just as it is important to choose the best pool type for you, pool patio materials must also be chosen carefully. Here are some options to consider: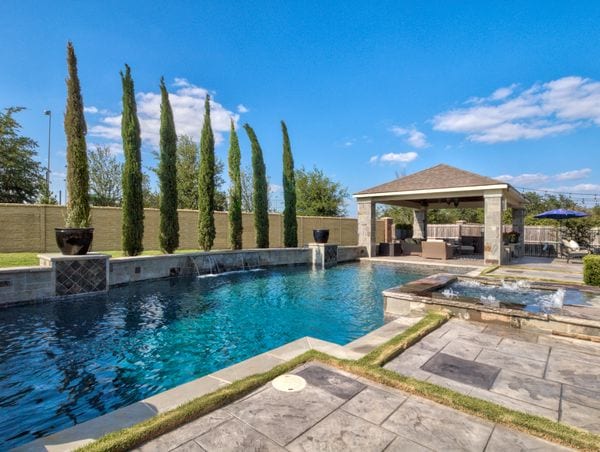 Wood creates a rustic feel to any home and helps keep the area cool.
Concrete uses a mixture of sand, water, cement, and gravel to create a wide variety of colors and styles including:

Smooth
Stamped
Brushed
Scored
Colored or tinted
Decorated with inlays
Painted
Surfaced with other materials such as pebbles
Patterned
Spraydeck finish

Stone offers an immaculate and sophisticated look. It also providess great traction when wet which is perfect for slip-resistant pool areas. Some types of stone are:

Sandstone
Limestone
Bluestone
Quartzite

Pavers can be made to look like brick, cobblestone, or cut stone. These are a great option for homeowners on a budget.
Brick is a long-lasting and classy option. It's perfect for homeowners going for a rustic, modern, or ranch-style outdoor area.
Outdoor Kitchen Area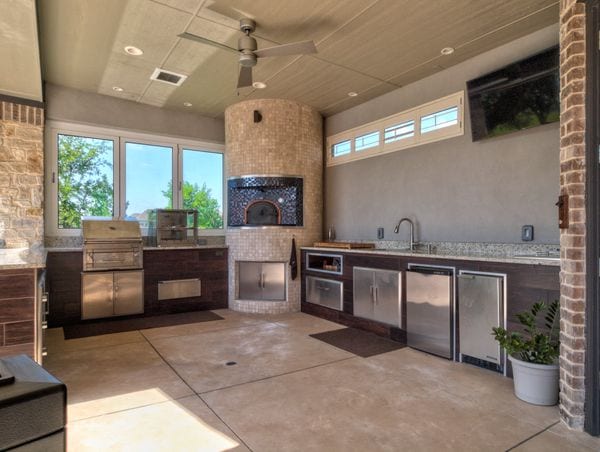 Outdoor kitchens can be customized by adding special appliances that meet your family's particular needs. Your outdoor kitchen could feature any combination of these:
Outdoor stove – This is perfect for enjoying nature while you cook and outdoor dinner parties.
Outdoor bar area – If you love to entertain outside, an outdoor bar area may be a must for you.
Outdoor pizza oven – Pizza is a people-pleaser which makes this a great investment to feed both your family and your guests.
Outdoor grilling station – You don't have to worry about messy set-up or missing the party while you grill when you have an outdoor grilling station ready to go.
Need Help Designing Your Perfect Outdoor Living Area?
Only one outdoor living space will be the absolute best fit for you, but with infinite choices at your fingertips, there are also infinite ways to end up with something other than your dream backyard. To give yourself the best shot at creating your dream space, lean on Liquidus Pool Services! Our skilled team of experts is dedicated to helping you create the perfect space to take your weekend back, so contact us today!